Rapper's Delight' Makes Its Mark
"Join us as we travel back in time to that legendary moment on January 5, 1980, when hip-hop took its first step into the mainstream spotlight. It all started with the iconic track 'Rapper's Delight' by the Sugarhill Gang. Let's dive into the music history and explore how this groundbreaking song reshaped the entire music landscape."

Black Wall St. Media

Contributor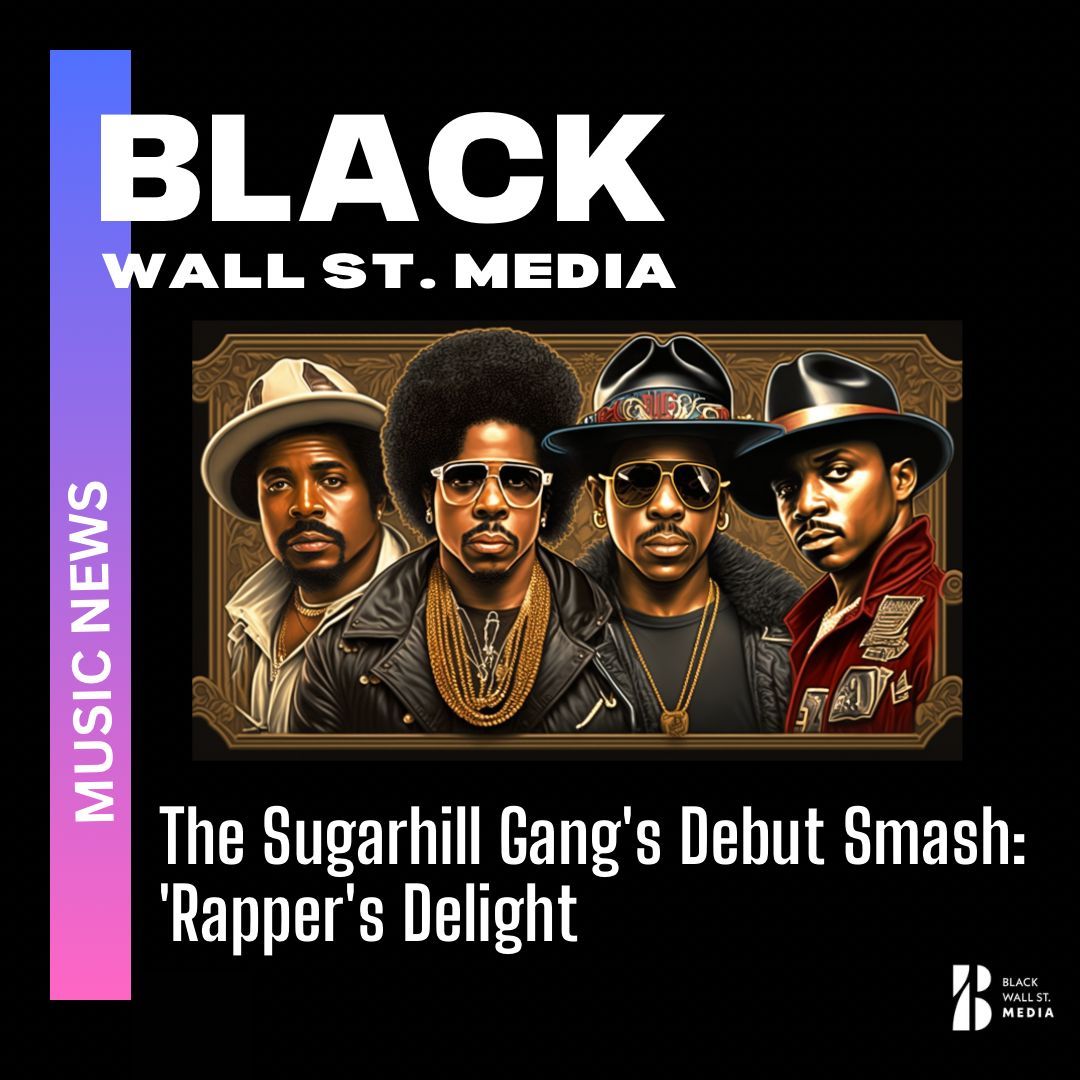 On January 5, 1980, something extraordinary happened.
The music world witnessed the birth of hip-hop on the mainstream stage, and it all began with a single groundbreaking track.
The Sugarhill Gang, known for their hit 'Rapper's Delight,' had every reason to celebrate this day, as their debut single forever changed the landscape of music.
Before this pivotal release, hip-hop was an underground sensation confined to the vibrant streets of New York City and the cultural hubs of Southern California.
But the visionary producer Sylvia Robinson, seeing an opportunity to share this revolutionary genre with the world, decided to assemble a group of talented young rappers. She named them after Harlem's iconic Sugar Hill district, a fitting moniker for a group that would soon make history.
In a whirlwind three days, three New Jersey natives, Wonder Mike (Michael Wright, 22), Big Bank Hank (Henry Jackson, 23), and Master Gee (Guy O'Brien, 19), found themselves in a recording studio. Here's the kicker: none of them had any significant DJ or MC experience at that point.
What they produced during that recording session would forever alter the course of music history. 'Rapper's Delight' was created in a single take, a 14-minute and 27-second masterpiece that would change the face of music forever.
Released on September 16, 1979, this iconic track made its debut on the Billboard chart at No. 37. It wasn't long before it climbed the ranks, peaking at No. 36 and staying there for months.
A fun twist to the story, Nile Rodgers and Bernard Edwards of the disco sensation Chic received co-writing credits and royalties because the track sampled one of their famous basslines.
'Rapper's Delight' was not just a hit; it was a cultural phenomenon. While early hip-hop pioneers like DJ Kool Herc and Grandmaster Flash had been shaping the genre's sound at parties and nightclubs since the early '70s, it was this single that catapulted hip-hop into the mainstream.
It became a top-three hit in at least nine countries, selling over 5 million copies worldwide and laying the foundation for the multitude of hip-hop artists who would follow in their footsteps.
"Today, we celebrate the birth of hip-hop's chart-topping journey, and we remember 'Rapper's Delight' for its pivotal role in the genre's rich history.

Black Wall St. Media

Contributor
"Join us on The Gwenton Show as we take an unforgettable journey down memory lane, celebrating 50 years of Hip Hop! 🎶🎉
Did you know that Sprite's iconic connection with hip-hop traces all the way back to 1986? It was a groundbreaking moment when the legendary rapper Kurtis Blow stepped into the spotlight as part of the 'Now More Than Ever' ad campaign. This marked one of the first times a hip-hop artist was featured in a national, mainstream advertisement.
The impact was colossal, and it paved the way for more unforgettable moments like the 'I Like The Sprite In You' ads, featuring hip-hop icons such as LL Cool J and Kris Kross. Sprite has been intertwined with hip-hop's vibrant culture for decades, and we're here to celebrate this incredible journey with you!
Stay tuned as we delve into the rich history of hip-hop and its unique connection to a beloved beverage. Hip-hop heads, this one's for you! 🥤🎤 #HipHopHistory #Sprite #TheGwentonShow #AnniversaryCelebration"