In Hiding: A Captivating New Play by Adenike Ojo
"A Captivating New Play by Adenike Ojo Explores Motherhood and Tradition"

Black Wall St. Media

Contributor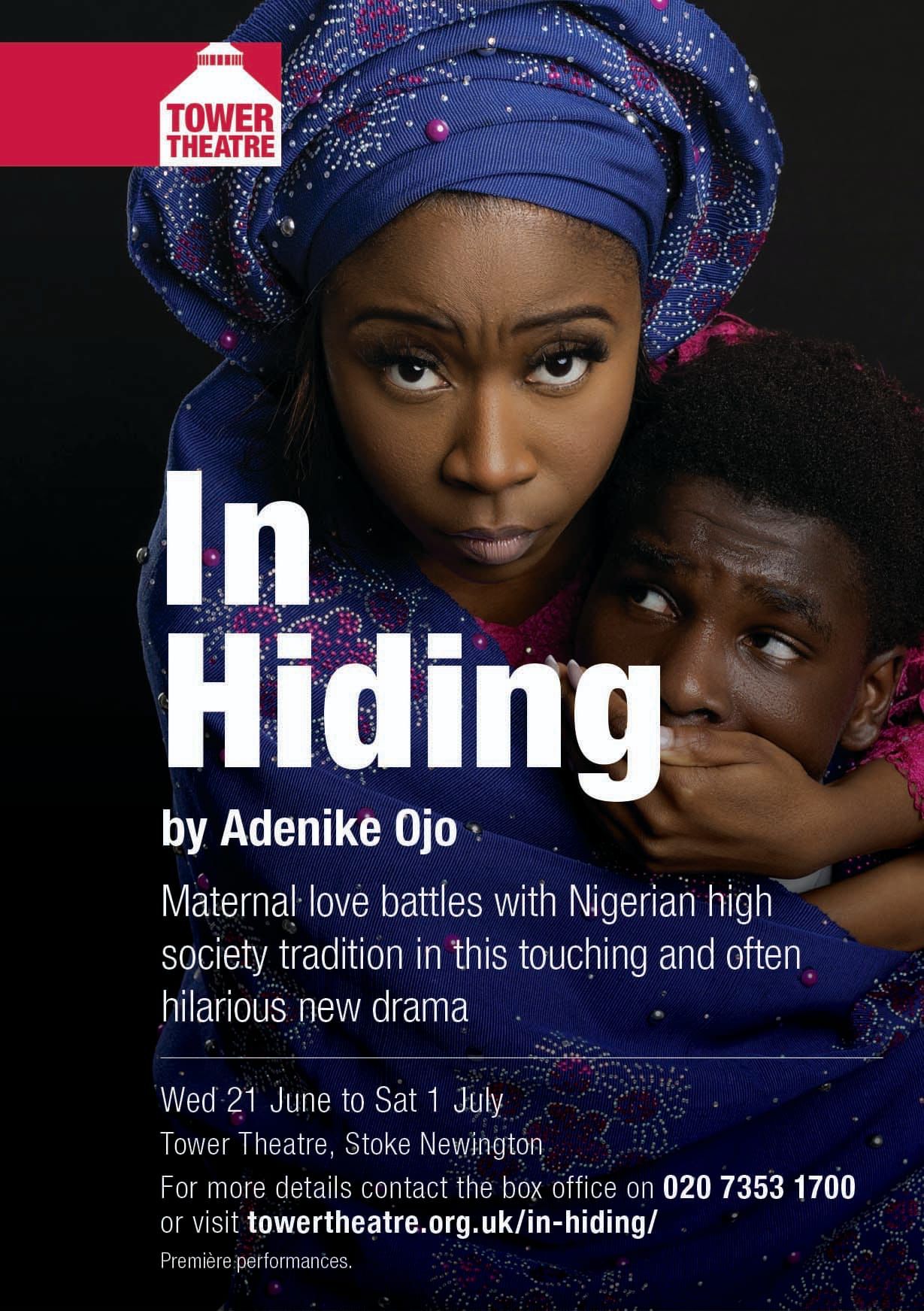 The stage is set for an exciting theatrical experience as Adenike Ojo, a talented British Nigerian playwright.
It takes center stage with her latest creation, "In Hiding."
Introduction: Directed by the renowned Kanayo Omo, this heartfelt drama promises to deliver a captivating performance that touches the heart and tickles the funny bone.
Set against the backdrop of Nigerian high society, the play delves into the complex interplay between maternal love and cultural traditions.
It offers a unique and insightful exploration of social identity and the challenges of motherhood.
Performance Details:
The premiere of "In Hiding" will grace the stage of the
Tower Theatre in Stoke Newington,
captivating audiences from
Wednesday, June 21 to Saturday, June 24,
as well as from
Tuesday, June 27 to Saturday, July 1.
Evening shows will begin at 7.30pm, with matinée performances scheduled for Saturdays, June 24 and July 1 at 3pm.
An Unconventional Battle:
Within the storyline, Bimpe DaCosta, a single mother raising an autistic child, finds herself entangled in the web of Nigerian high society traditions.
It also grapples with the demands of motherhood.
What should be a joyous occasion, an "Owambe" party, becomes a struggle as Bimpe's experiences clash with societal expectations.
Through moments of laughter, poignancy, and keen observation, "In Hiding" beautifully explores the universal themes of social identity and the complexity of mother-child relationships.
IT sheds light on a world enamored by status, whether real or perceived.
A Love Letter to Ancestral Roots:
Born and raised in Hackney, Adenike Ojo brings her unique perspective as a British Nigerian to the stage, infusing "In Hiding" with authenticity and heartfelt appeal.
Her talent shines through as she offers audiences a window into the vibrant culture and traditions of her ancestral land.
With each scene and dialogue, Ojo masterfully crafts a narrative that resonates with the audience, inviting them to reflect on their own experiences of motherhood and the intricate dance between personal desires and societal expectations.
A Plate of Delight:
Just as a sumptuous plate of "jollof rice" tempts the taste buds, "In Hiding" promises to be a theatrical feast that should not be missed.
Audiences can anticipate an exuberant and touching play that challenges preconceived notions and invites contemplation.
Through the lens of Bimpe's journey, the play confronts the audience with the realities of a society that navigates the delicate balance between tradition and progress.
"In Hiding" is more than just a play; it is an invitation to immerse oneself in a rich tapestry of emotions, cultural heritage, and social commentary.
Adenike Ojo's talent as a playwright shines brightly as she explores the complexities of motherhood and the clash between tradition and personal fulfillment.
With each performance, the Tower Theatre in Stoke Newington will come alive with the resonant voices of the characters, leaving the audience with a renewed appreciation for the power of storytelling and the universal truths it uncovers.
""

Black Wall St. Media

Contributor
Errol Hill: Setting the Stage for Caribbean Legacy
Arts & CultureJTNDc2NyaXB0JTIwYXN5bmMlMjBzcmMlM0QlMjJodHRwcyUzQSUyRiUyRnBhZ2VhZDIuZ29vZ2xlc3luZGljYXRpb24uY29tJTJGcGFnZWFkJTJGanMlMkZhZHNieWdvb2dsZS5qcyUzRmNsaWVudCUzRGNhLXB1Yi0xMDE0NzQyODE1NjEwMDM1JTIyJTBBJTIwJTIwJTIwJTIwJTIwY3Jvc3NvcmlnaW4lM0QlMjJhbm9ueW1vdXMlMjIlM0UlM0MlMkZzY3JpcHQlM0UlMEElM0MlMjEtLSUyMEd3ZW50b24lMjAtLSUzRSUwQSUzQ2lucyUyMGNsYXNzJTNEJTIyYWRzYnlnb29nbGUlMjIlMEElMjAlMjAlMjAlMjAlMjBzdHlsZSUzRCUyMmRpc3BsYXklM0FibG9jayUyMiUwQSUyMCUyMCUyMCUyMCUyMGRhdGEtYWQtY2xpZW50JTNEJTIyY2EtcHViLTEwMTQ3NDI4MTU2MTAwMzUlMjIlMEElMjAlMjAlMjAlMjAlMjBkYXRhLWFkLXNsb3QlM0QlMjI1NTk4NTE4NDg1JTIyJTBBJTIwJTIwJTIwJTIwJTIwZGF0YS1hZC1mb3JtYXQlM0QlMjJhdXRvJTIyJTBBJTIwJTIwJTIwJTIwJTIwZGF0YS1mdWxsLXdpZHRoLXJlc3BvbnNpdmUlM0QlMjJ0cnVlJTIyJTNFJTNDJTJGaW5zJTNFJTBBJTNDc2NyaXB0JTNFJTBBJTIwJTIwJTIwJTIwJTIwJTI4YWRzYnlnb29nbGUlMjAlM0QlMjB3aW5kb3cuYWRzYnlnb29nbGUlMjAlN0MlN0MlMjAlNUIlNUQlMjkucHVzaCUyOCU3QiU3RCUyOSUzQiUwQSUzQyUyRnNjcmlwdCUzRQ== Errol Hill: The Pioneer of West Indian Theatre Born on August 5,…