Strings of Resilience: The Inspiring Legacy of Folk Maestro Elizabeth 'Libba' Cotten
"In the vibrant tapestry of American folk music, few threads weave a story as remarkable as that of Elizabeth "Libba" Cotten. A two-time Grammy winner, Cotten's journey is one of resilience, musical mastery, and cultural impact. Born in 1893, this North Carolina native left an indelible mark on the folk landscape, with her unique guitar style, soulful lyrics, and an unwavering passion for music. As we delve into the extraordinary life of Elizabeth Cotten, we uncover a tale of triumph that culminated in her first Grammy at the age of 90, solidifying her status as a folk legend and inspiring generations to come."

Black Wall St. Media

Contributor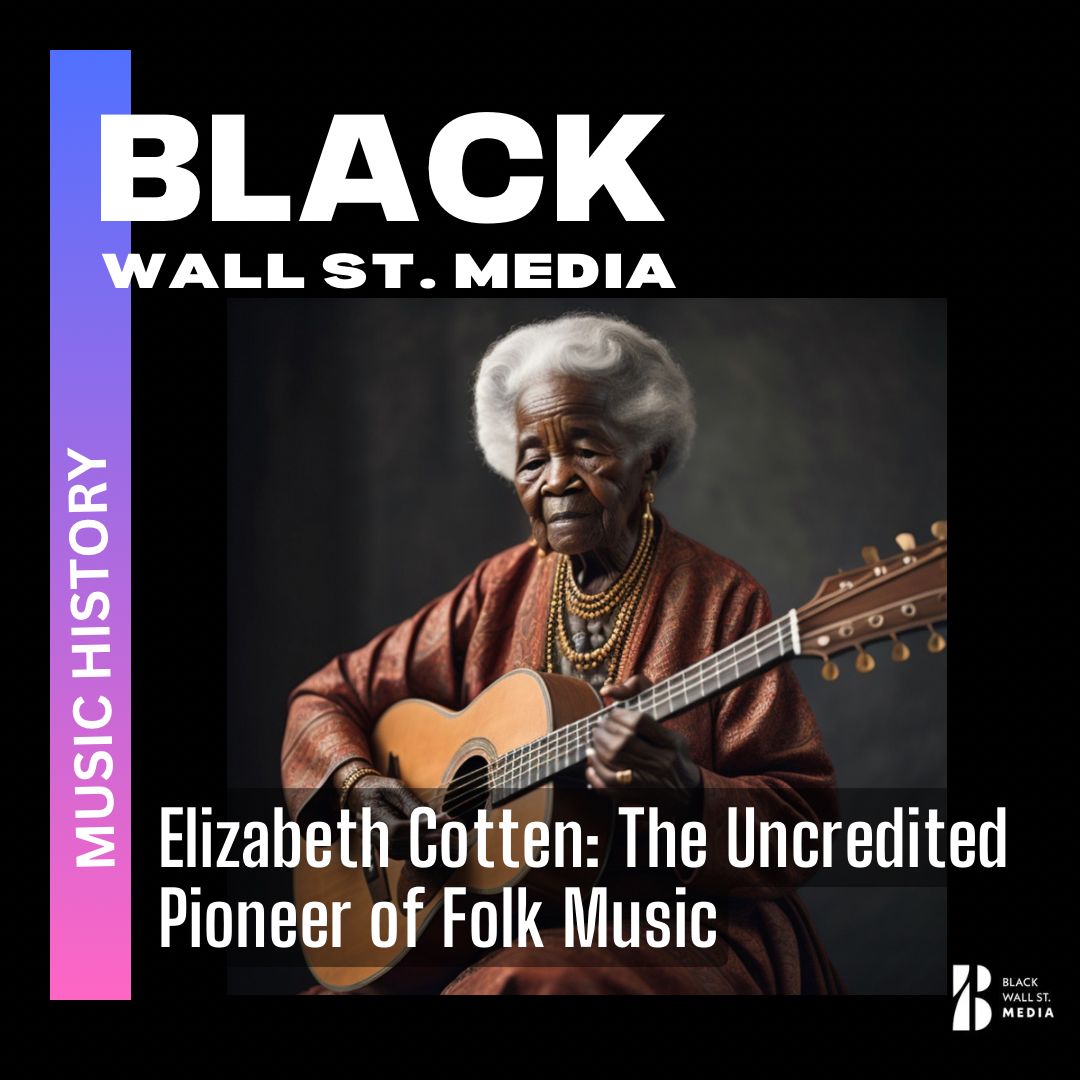 Elizabeth Cotten: The Grammy-Winning Folk Legend
In the world of folk music, Elizabeth "Libba" Cotten stands as a trailblazing icon, a maestro who achieved her first Grammy at the remarkable age of 90. Rooted in her deep connection to North Carolina, Cotten's lyrics and melodies wove intricate tales of her Southern life, leaving an indelible mark on the genre.
A gifted singer and songwriter, Cotten's creations resonated far beyond her lifetime. The Grateful Dead, Bob Dylan, Joan Baez, and even The Beatles found inspiration in her work, covering songs like "Oh, Babe, It Ain't No Lie," "Shake Sugaree," and "Freight Train." Despite the widespread adoption of her music by other artists, Cotten worked tirelessly to reclaim her legacy.
Born around 1893 in Chapel Hill, North Carolina, Cotten faced financial hardships that led her to leave school in the third grade. Undeterred, she taught herself to play the guitar using a $3.75 Sears Roebuck Harmony Stella guitar she saved up for.
Her unique style, known as "Cotten Picking," involved playing the guitar upside down and backwards, creating a signature sound that captivated audiences.
Cotten's most famous song, "Freight Train," written around the age of 12, became a cornerstone of the American folk music revival in the late 50s and early 60s.
Despite taking a hiatus from public performances due to familial disapproval and her role as a housewife, Cotten's passion for music never waned.
In the 1940s, a chance encounter with the Seeger family in Washington, D.C., reignited her musical career. Pete Seeger recognized her exceptional talent, leading to her participation in their sets. Her renowned song "Freight Train" gained international recognition but was falsely copyrighted by British songwriters Paul James and Fred Williams. Cotten, with support from the Seeger family, filed a lawsuit for copyright infringement, eventually settling out of court in 1957.
Despite this victory, she received only a fraction of the royalties generated by the song.
Cotten's resurgence in the 60s marked the beginning of her public performances, showcasing her storytelling prowess and captivating audiences with her unique guitar style. She continued to play and share her wisdom, leaving an indelible impact on those fortunate enough to witness her performances.
In her 80s, Cotten achieved a significant milestone by obtaining her GED, emphasizing her lifelong commitment to learning and growth. However, her crowning achievement came at the age of 90 when she won a Grammy for the best ethnic or traditional folk recording with "Elizabeth Cotten Live!"
Beyond her personal accolades, Cotten's influence extended to her grandchildren, inspiring them to pursue musical careers of their own. Her legacy lives on not only in her timeless music but also in the generations she inspired.
Elizabeth Cotten's journey culminated with her posthumous induction into the North Carolina Music Hall of Fame in October 2019. Her remarkable life serves as a testament to the enduring power of passion, resilience, and the ability of music to transcend generations.
As Peggy Seeger aptly stated, "Elizabeth Cotten was what a Queen should be," encapsulating the essence of a folk legend whose impact will continue to resonate through the strings of her guitar and the hearts of those who cherish her music.
Black Wall St. Media

Contributor