Mental Health & Well-being
The Heart of Black Sisterhood
"There's an inherent liberation when you feel there's a space to be unapologetically you."

Black Wall St. Media

Contributor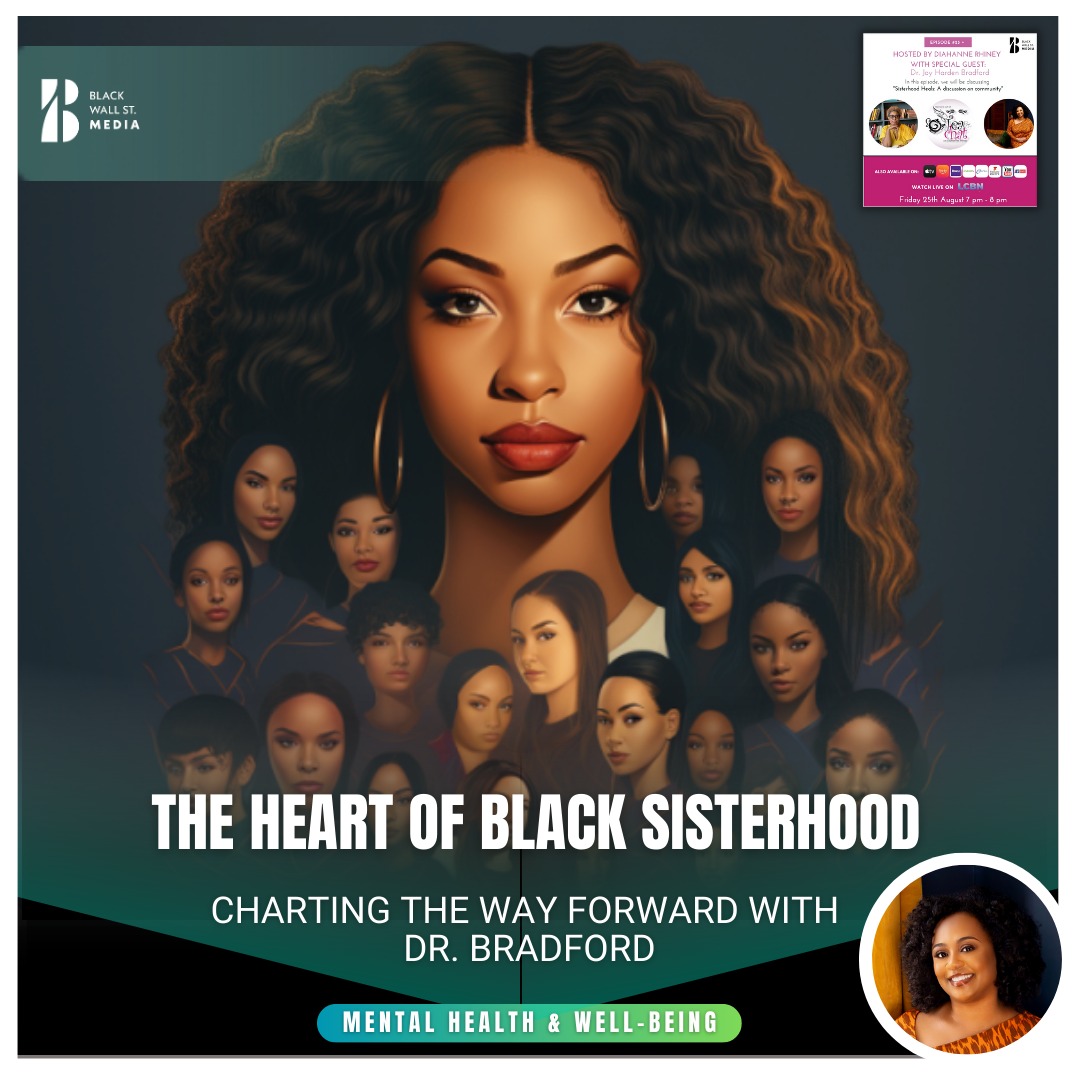 Black sisterhood is a bond that transcends mere friendship, rooted in shared experiences and collective resilience. Dr. Joy Harden Bradford dives deep into its transformative power in her new book, underscoring the magic and challenges of these bonds. Join us as we explore the profound impact of Black sisterhood in modern times and the insights from a leading voice in Black women's mental health
Dr. Joy Harden Bradford's 'Sisterhood Heals': The Essence of Black Sisterhood and Its Transformative Healing In the realm of intimate relationships, nothing quite captures the profound nature of connection like Black sisterhood.
Nurtured at the crossroads of joy, wellness, and unwavering support, Black sisterhood often symbolizes a haven of understanding and love.
Yet, much like other profound connections, they're not always without their challenges. In her latest literary venture, Dr. Joy Harden Bradford, an accomplished clinical psychologist, prolific podcaster, and the creative force behind Therapy For Black Girls, sheds light on the intrinsic power of Black sisterhood.
By dissecting its multifaceted nature, Dr. Bradford not only illuminates its importance but also charts a way to enhance these ties to foster deeper connections.
Having spent two decades dedicated to the mental health of Black women and fostering community ties, Dr. Bradford's book comes as a natural progression of her efforts. Boasting a community that's half a million strong, she has evolved into the de-facto therapist for Black women in search of mental solace and empowerment.
"Today, the quest for authenticity among Black women is palpable," states Dr. Bradford.
"There's an inherent liberation when you feel there's a space to be unapologetically you. However, the challenge lies in effectively navigating these spaces and fortifying these sister-friendships. This book aims to provide a blueprint for that journey."
Sisterhood Heals is an immersive read, guiding readers through introspection to uncover the historical influences shaping their current relationships. Dr. Bradford provides invaluable tools to foster and sustain nurturing bonds while equipping readers with strategies to mend rifts.
This Friday it's time for another Tea and Chat and this week we are talking about "Sisterhood Heals: A discussion on community"
Joining me this week is the amazing Dr Joy Harden Bradford, a licensed psychologist. Named by Glamour Magazine as a Game Changer for her work in the mental health field, she has gained a Bachelor's degree in Psychology, Master's degree in Vocational Rehabilitation Counselling and a Ph.D. in Counselling Psychology. She is also the author of Sisterhood Heals: The Transformative Power of Healing Community. Her work focuses on making mental health topics more relevant and accessible for Black women and she delights in using pop culture to illustrate psychological concepts.
You can purchase her book via clicking the link below/by visiting my link tree, link in bio.
🚨 Make sure you tune in Friday the 25th at 7 pm 🕖 and watch live on LCBN 🚨
Drawing from her own professional experiences and the warmth characteristic of sisterly ties, the book establishes that sisterhood, particularly in testing times, can serve as a potent source of solace and mental rejuvenation.
When asked about the catalyst behind the book, Dr. Bradford revealed, "Sisterhood Heals was conceived as an event. However, circumstances pivoted it into a book. Black sisterhood has been foundational in my career, encapsulating the essence of much of the work at Therapy For Black Girls."
She goes on to explain the uniqueness of Black sisterhood as a spiritual bond rooted in a shared history, evolving into a survival mechanism.
Our interconnectedness allows for an intuitive understanding, a silent acknowledgment of mutual experiences, which is unparalleled.
However, the portrayal of Black female friendships in media often veers towards negativity, perpetuating stereotypes of non-existent or adversarial relationships. Dr. Bradford's book aims to debunk these myths, arguing that numerous societal systems benefit from disunity among Black women.
Delving deeper into the intricacies of sisterhood, Dr. Bradford introduces her "four S's" framework – softening, seeing, support, and being supported. She emphasizes that genuine relationships can bolster mental health, counteracting the detrimental effects of loneliness.
These connections affirm the idea that life's battles need not be faced alone. On forging authentic bonds, Dr. Bradford advises, "Embrace transparency and authenticity. A genuine curiosity, devoid of judgment, can be a game-changer."
At its core, Black sisterhood offers therapeutic healing. "Being surrounded by Black women, sharing authentic experiences, allows for relaxation and self-acceptance,"
Dr. Bradford notes, capturing the very essence of her book, Sisterhood Heals. In a world increasingly fractured, Dr. Joy Harden Bradford's work is a testament to the healing power of community and sisterhood.
Through her insights, she not only celebrates Black sisterhood but also underscores the need to cherish and fortify these bonds for a healthier, more empowered tomorrow.
Black Wall St. Media

Contributor