Kizzmekia Corbett: A Trailblazer in Science and Equity
"Join us in celebrating the resilience, brilliance, and unwavering commitment of this extraordinary woman who shattered barriers and continues to inspire."

Black Wall St. Media

Contributor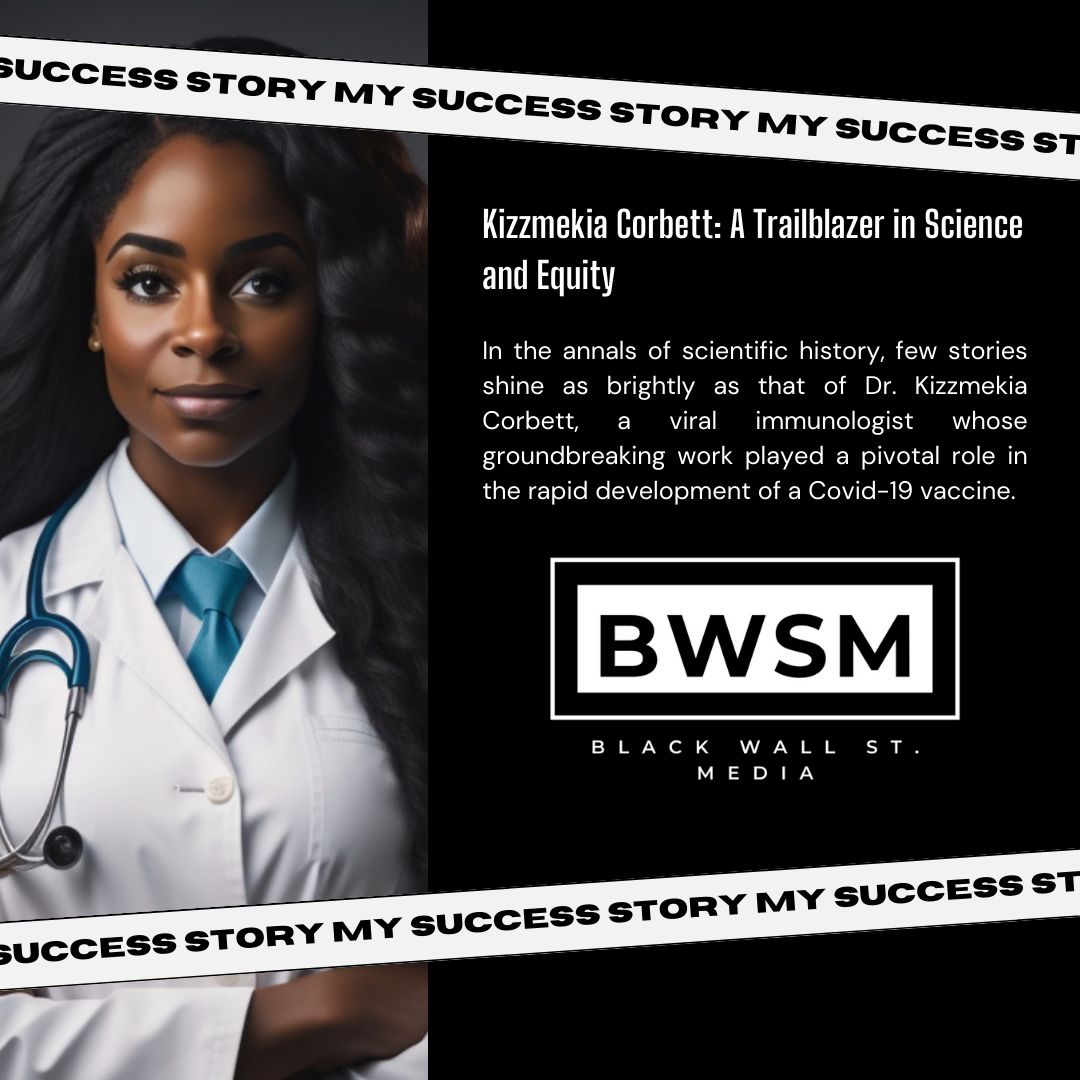 In the annals of scientific history, few stories shine as brightly as that of Dr. Kizzmekia Corbett, a viral immunologist whose groundbreaking work played a pivotal role in the rapid development of a Covid-19 vaccine.
Born and raised in North Carolina, Dr. Corbett's journey is a testament to resilience, brilliance, and an unwavering commitment to breaking barriers.
In 2019, while celebrating the holidays with family in North Carolina, Dr. Corbett couldn't have foreseen that a mysterious illness in China would alter the course of her life's work.
As headlines about a novel coronavirus emerged, Dr. Corbett, a senior research fellow at the National Institutes of Health, found herself at the forefront of a global race against time.
Her expertise in coronaviruses, honed over five years, became the linchpin for developing a vaccine.
Collaborating with her team, Dr. Corbett's "plug and play" approach, swapping genetic codes from previous coronavirus studies, laid the foundation for what would become one of the fastest vaccines ever developed.
By March 2020, human trials were underway, and by December, emergency authorization was granted.
The urgency of the pandemic fueled Dr. Corbett's drive. "It was all about proof of principle," she recalls.
What began as excitement to prove her research's global relevance transformed into a mission to save lives as the death toll climbed. Amid the chaos, Dr. Corbett's "plug and play" approach proved transformative, making her a key player in vaccine development.
But Dr. Corbett's story is not just one of scientific triumph; it's a narrative of breaking barriers.
As a Black woman in science, she embraced the challenge of asserting her worth in rooms dominated by white men.
Her earlier research, dissecting the structure of coronaviruses, laid the groundwork for the Covid-19 vaccine.
In March 2020, a powerful image circulated featuring Dr. Corbett alongside influential figures like President Trump and Dr. Fauci.
Yet, just out of the frame were two young Black women scientists, Cynthia Ziwawo and Olubukola Abiona, watching their leader closely. Dr. Corbett's leadership became a beacon for minority scientists.
Having joined Harvard's T.H. Chan School of Public Health in 2021, Dr. Corbett remains driven.
She feels the weight of responsibility, recognizing that her success opens doors for others. "If I fail as a Black woman, this department at Harvard will overlook Black women until infinity," she asserts.
Her impact extends beyond the laboratory.
Dr. Corbett receives numerous emails from Black women and girls aspiring to be scientists. Through her Twitter page and community engagements, she actively combats vaccine hesitancy and advocates for equitable healthcare, especially in communities of color.
As she stands at the intersection of scientific achievement and societal change, Dr. Kizzmekia Corbett's story is a testament to the power of determination, expertise, and the profound impact one individual can have on science, equity, and the future.
Black Wall St. Media

Contributor