Chauncey Spencer: Pioneering African American Pilot and Advocate for Integration
""Discover the inspiring journey of Chauncey Spencer, the pioneering African American pilot and relentless civil rights advocate who shattered barriers in the aviation world. His unwavering dedication and unbreakable spirit transformed history. Join us in remembering an unsung hero and celebrating his enduring legacy of courage and change."

Black Wall St. Media

Contributor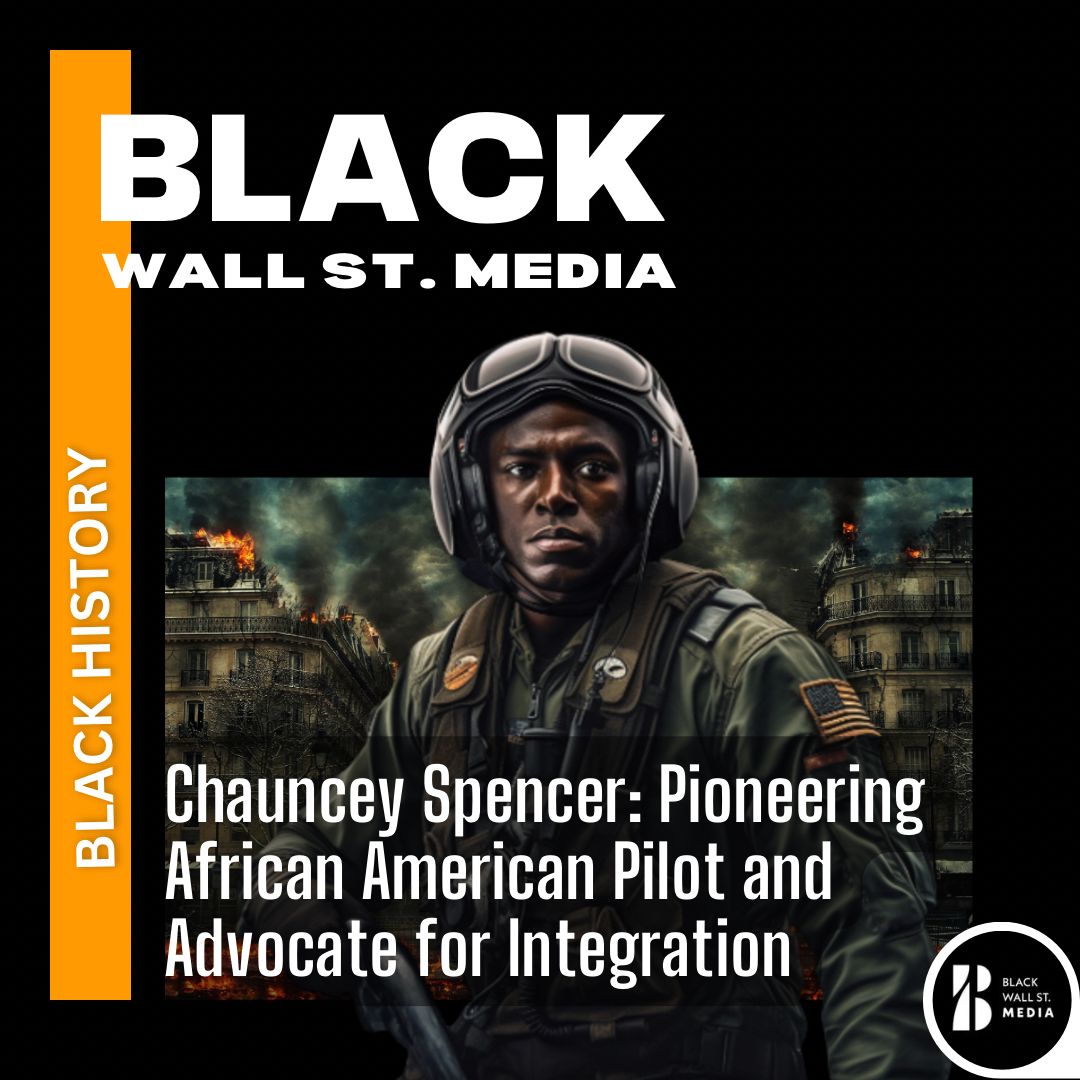 Chauncey Spencer: Pioneering African American Pilot and Advocate for Integration
Chauncey Spencer, a name that deserves recognition and remembrance, was born in 1906. He wasn't just any individual; he was a trailblazing African American pilot and educator who left an indelible mark on the history of aviation and civil rights.
Born in Lynchburg, Virginia, Chauncey Spencer was part of the Spencer family, one of the most respected and influential families in the city.
The Spencer home was a hub for prominent figures like George Washington Carver, Paul Robeson, James Weldon Johnson, Walter White, Clarence Muse, Dean Pickens, Adam Clayton Powell, Langston Hughes, Thurgood Marshall, and W.E.B. Du Bois. It was a place where ideas flowed, and dreams took flight.
At the tender age of 11, Chauncey fell in love with flying, a passion that would shape his life's journey. However, upon graduating from college, his dreams faced the harsh reality of racial prejudice.
No aviation school in Virginia would admit him because of his color. Undeterred, Chauncey Spencer decided to move to Chicago in 1934, where he would become a pivotal figure in the fight for equality in aviation.
In Chicago, he joined forces with a group of African American aviators to form the National Airmen Association of America (NAAA). His determination was unwavering, despite the financial hardships he faced.
Working as a kitchen helper for a meager $16 a week, he scraped together $11 per hour for flying lessons, displaying his relentless commitment to his dream.
In May 1939, alongside fellow aviator Dale Lawrence White, another NAAA member, Chauncey embarked on a groundbreaking ten-city tour, starting in Chicago and concluding in Washington, D.C.
They flew a rented Lincoln-Paige biplane with only two flight instruments. Their mission was clear: to demonstrate the aviation abilities of African Americans and lobby Congress to include people of color in the Civilian Pilot Training Program for the Army Air Corps.
Their audacious flight drew the nation's attention and shattered the stereotypes held by many Army Air Corps and government leaders.
Chauncey Spencer and Dale White met with influential figures like Harry Truman and members of Congress, tirelessly convincing them to support their cause. Their efforts bore fruit, paving the way for African Americans to contribute to the Civilian Pilot Training Program.
During World War II, while working for the Army, Spencer collaborated with Judge William H. Hastie to advocate for the fair treatment of African American air cadets, who were being trained at institutions like Tuskegee Institute in Alabama and other air bases.
He faced tremendous resistance from both white and black individuals, as he took on the role of the Civilian Personnel Employee Relations Officer at Wright-Patterson Air Force Base in Ohio. However, his persistence and unwavering commitment made steady progress toward the integration of the Air Force.
In 1948, Chauncey Spencer was awarded the Exceptional Civilian Service Award, the highest honor the Air Force could bestow upon a civilian, for his outstanding service during World War II. He had truly changed the landscape of the U.S. military and aviation.
However, Spencer's advocacy for integration didn't sit well with everyone. In 1953, he was falsely charged with disloyalty and accused of being a Communist.
This led to his removal from his position and subjected his family to humiliation and economic hardship. Despite the injustices he faced, Chauncey Spencer remained steadfast in his belief in the goodness and strength of humanity and America. In June 1954, the Air Force finally cleared his name, but the damage had been done. Spencer and his family never fully recovered from this harrowing ordeal.
Chauncey Spencer continued to be an emblem of resilience, even in the face of adversity. He passed away on August 21, 2002, leaving behind a legacy that should inspire us all.
"His story reminds us of the individuals who, through their unwavering dedication, made significant contributions to the fight for racial equality and the progress of America.

Black Wall St. Media

Contributor