Charlie Phillips: Unveiling the Unseen History of Black Britain through Photography
"Dive into the captivating journey of Charlie Phillips, a beacon of Black Britain's unseen history. From a young Jamaican immigrant to one of the UK's most eminent photographers, Phillips has been the silent witness to a pivotal era in London's vibrant African-Caribbean community. With a camera left behind by an American soldier, he embarked on a mission to capture the soul of an age and the untold stories of his community. From Notting Hill parties to iconic encounters across Europe, discover the resilience, determination, and artistry of a legend whose lens helped unveil a hidden chapter of Britain's cultural tapestry."

Black Wall St. Media

Contributor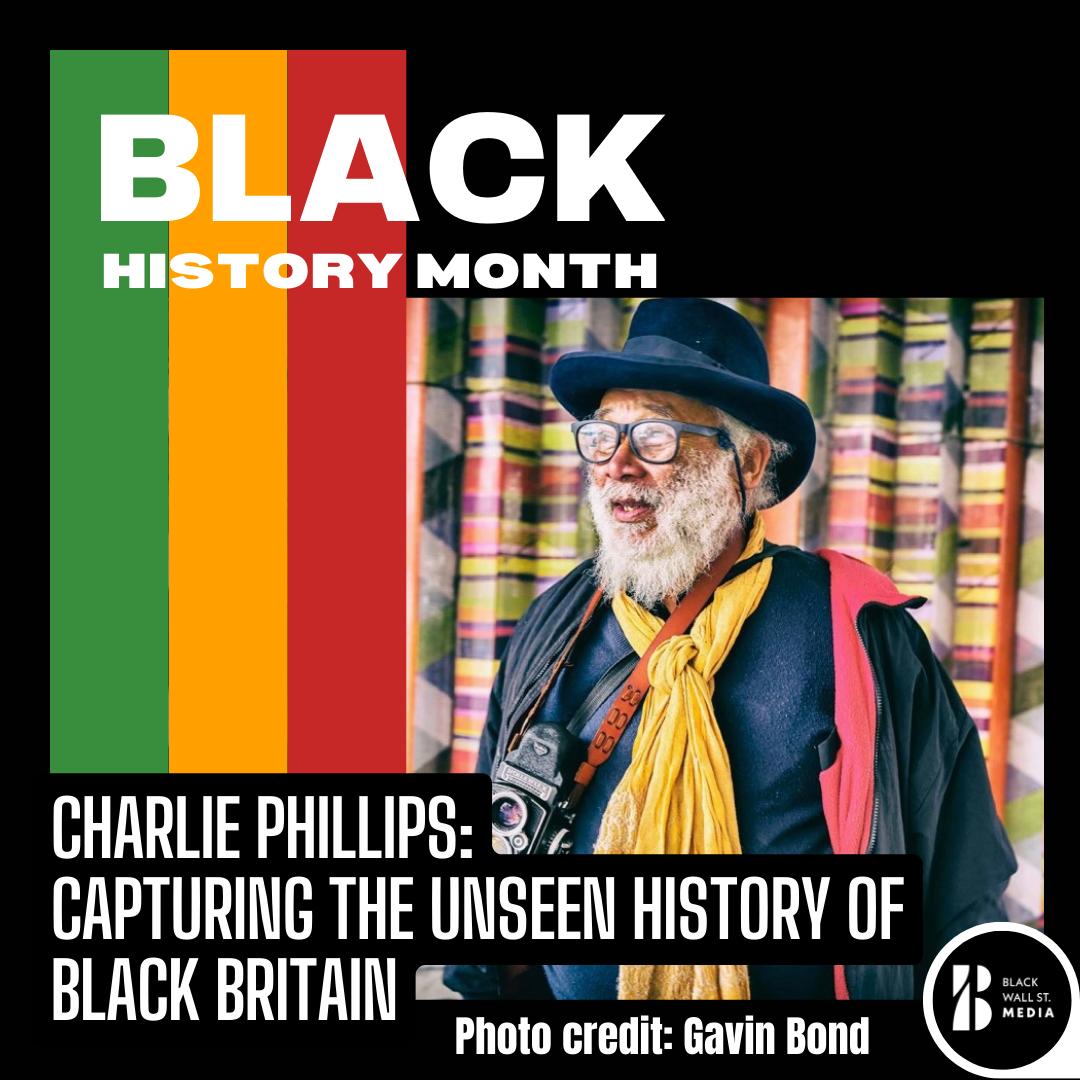 Charlie Phillips, a name that resonates with the soul of a bygone era, has been a silent but influential witness to history through his camera lens.
His journey from a young Jamaican immigrant in 1950s London to a renowned photographer is a testament to the resilience and determination that defined his generation.
This article delves into the life and work of one of Britain's greatest photographers, a talent unrecognized for far too long. In 1958, a serendipitous event set the course of Charlie Phillips' life in a wholly unexpected direction.
A camera, left behind by a visiting American soldier, became the key to unlocking his passion. Phillips was part of a burgeoning African Caribbean community in Notting Hill, West London, a vibrant but marginalized neighborhood.
The place came alive on Saturdays when residents would host basement parties, welcoming African American soldiers from nearby military bases, who were often unwelcome in white establishments in central London.
The camera, left forgotten by one of these soldiers, soon found its way into Phillips' hands, and it marked the beginning of a lifelong journey. He documented the stories of his community and the joyful encounters at these gatherings, capturing the essence of an era where racism was pervasive, leading up to the 1958 Notting Hill "race riots."
His lens also celebrated the spirit of unity as black and white Londoners shared their lives and laughed together, ultimately creating a remarkable photographic collection.
This renaissance was not without its challenges; Phillips often found himself pigeonholed as a "Black culture" photographer, rather than a chronicler of British culture at large. Today, in his peaceful life in Mitcham, Phillips still takes photos for the joy of it, away from the spotlight.
He believes his mission is to document the untold history of his community and share it with future generations.
In a society slowly embracing multiculturalism, his work stands as a testament to the rich tapestry of Black British history that has too often been ignored or erased.
Charlie Phillips' extraordinary journey from obscurity to recognition as one of Britain's greatest photographers is a testament to his tenacity and the historical importance of his work.
By documenting the vibrant life and struggles of London's African-Caribbean community, he has helped reveal an often overlooked part of Britain's diverse cultural heritage.
Phillips didn't just focus on the neighborhood's social life; he also embarked on a whirlwind journey across Europe. His camera became a passport to encounters with iconic figures like Jimi Hendrix, Federico Fellini, Muhammad Ali, and Henri Cartier-Bresson.
Yet, when he tried to share his work with galleries and editors in London, he faced disbelief and rejection. It seemed that British attitudes towards race had influenced the recognition of his art.
As a response to this dismissal, Phillips put his camera aside, inadvertently erasing years of captured history. His career took a different turn, as he ran a Caribbean diner in South London for over a decade.
But it was a chance encounter in 1991 that reignited his passion for photography. His lost and found collection of photographs, combined with his images from the '60s, led to the publication of "Notting Hill in the Sixties," marking the revival of his artistic career.
Over the years, Phillips' work found its well-deserved place in exhibitions and prestigious collections. His photography became a chronicle of London's African-Caribbean community, capturing their funerals, streets, and vibrant social life.
"His legacy is not only in his photographs but in his commitment to preserving history and representing his community's untold stories.

Black Wall St. Media

Contributor