Roberts' Legacy: From Battlefront to Firefront
"From the Caribbean shores to the heart of London, George Arthur Roberts BEM's incredible journey from a soldier to a pioneering firefighter is a testament to the spirit of Black resilience and dedication. Dive into the inspiring life of an unsung hero this #BlackHistoryMonth. Discover a legacy that burns bright"

Black Wall St. Media

Contributor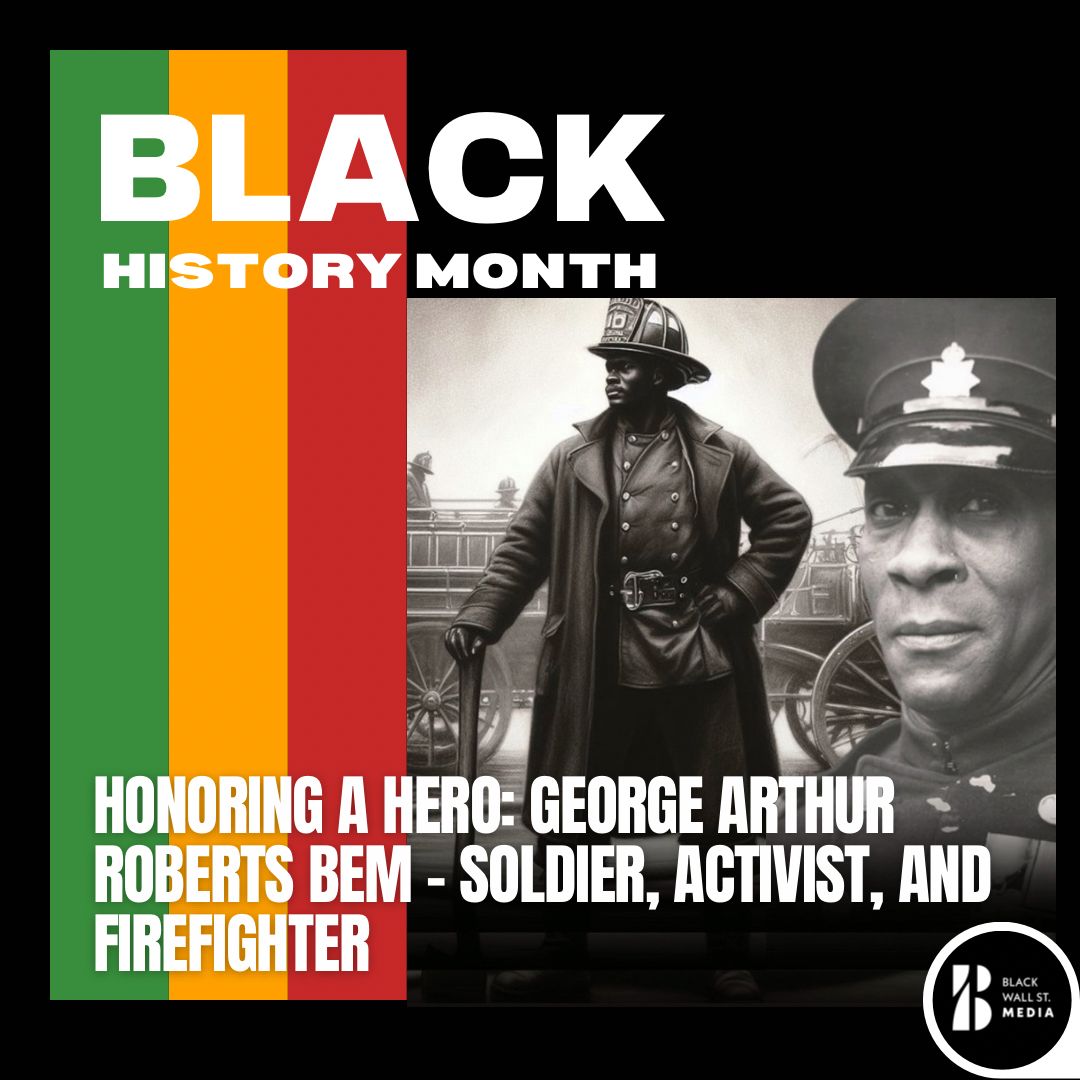 Honouring a Hero: George Arthur Roberts BEM – Soldier, Activist, and Firefighter
During Black History Month, it's crucial to shed light on remarkable individuals whose contributions often remain hidden in the annals of history. One such unsung hero is George Arthur Roberts BEM, a man whose life journey was nothing short of extraordinary.
From Trinidad to the Western Front George Arthur Roberts was born in 1891 on the vibrant Caribbean island of Trinidad.
In the early 1910s, driven by a profound sense of duty and adventure, he embarked on a voyage to England.
Upon his arrival, he wasted no time in joining the British Army, ready to serve during the First World War.
His path led him to the brutal Battle of Loos, a pivotal conflict on the Western Front from September 25 to October 13, 1915.
This battle marked the first use of gas warfare by Britain and was a harrowing experience for those involved.
George later participated in the infamous Somme offensive, where the toll of war was staggering, with over 240,000 British and Commonwealth soldiers either killed or wounded. George was not spared from the horrors of war; he too was wounded.
In 1916, he received special leave to return to Trinidad, where he was tasked with recruiting more volunteers for the Army. His efforts resulted in recruiting an impressive 250 men.
A Life of Activism
After the First World War, George Arthur Roberts continued to dedicate himself to noble causes. He joined forces with 'The National Federation of Discharged and Demobilised Sailors and Soldiers,' which eventually became the Royal British Legion. George's commitment was unwavering, and he became the President and Founder Member of the Camberwell Branch.
In recognition of his lifelong dedication, he was made a life member of the British Legion in 1962. In 1931, George assumed the role of founding chairman for the League of Coloured Peoples.
This organisation played a crucial role in representing and supporting British Black communities until its disbandment in 1947.
Answering the Call Again:
The Auxiliary Fire Service When the Second World War erupted, George Arthur Roberts, though considered too old for frontline service, found another way to serve his community and country. In 1938, he became the first Black man to join the London Auxiliary Fire Service (AFS).
Throughout the war, he bravely served at New Cross Fire Station, risking his life to extinguish fires and save many others. George's unwavering dedication did not go unnoticed. In 1943, he was promoted to Leading Fireman and, in 1944, was awarded the British Empire Medal (BEM).
This honour recognised his outstanding contributions, both in his daily duties at New Cross Fire Station and for his pioneering work with the Discussion and Education groups of the Fire Service. His medal was presented by King George VI on May 15, 1945, at Buckingham Palace.
Remembering a Legacy
In recent years, George Arthur Roberts' legacy has been rightfully celebrated. In 2016, Southwark Council unveiled a Southwark Blue Plaque outside his former residence in Camberwell, attended by dignitaries, MPs, and representatives from the Brigade. In 2018, the London Fire Brigade commemorated George with a red plaque at New Cross Fire Station.
His great-granddaughter, Samantha Harding, had the honor of unveiling it. Samantha reflected, "It's always overwhelming for me to attend these events, as it brings to light all of the incredible things he has done."
Watch Manager Micky Nicholas acknowledged George's enduring influence, stating, "George's legacy has led to there being members of Caribbean and other diverse communities in the Brigade today."
George Arthur Roberts BEM, a soldier, activist, and firefighter, left an indelible mark on the history of London and the Fire Brigade. 
"His life and legacy continue to inspire and serve as a testament to the remarkable contributions of Black individuals throughout history.

Black Wall St. Media

Contributor