165 years
Commemorating the arrival!
"Planters in the West Indies began using indentured workers from British India as labour on their plantations. Learning of the success of the approach, planters in Grenada also sought to hire Indian indentured workers.
British Grenada legalised immigration in 1856 to facilitate the arrival indentured migrant workers.
The first ship carrying indentured workers from India, the Maidstone, departed from Calcutta on 27 January 1857 with 375 Indians on board. It arrived at Irwin's Bay in St. Patrick Parish, Grenada on 1 May 1857. Eighty-six Indians died during the voyage.
Most of the workers on the Maidstone were distributed to plantation estates in St. Patrick and St. Mark parishes, as well as other parishes. None were sent to plantations in St. John parish. 
The Fulwood brought 362 Indian workers to Grenada in 1858 and the Jalawar brought 249 workers the following year. Between 1857 and 1878, ships transported a total of 3,033 Indians to Grenada, excluding those who died during the voyage. 
#Grenada #Caribbeanhistory #British #Indianhistory #Asian #IndianArrivalDay
The last ship carrying 175 indentured Indian labourers arrived on the island some time between 1881 and 1885.
In total, nearly 3,206 Indians were brought to Grenada, excluding those who died during the voyage. Only about 15% of them returned to India, while the rest remained in the country even after their indenture period ended in 1890.
These Indians are the origin of the Indo-Grenadian community."

The first ship, named the Maidstone, departed from Calcutta on January 27, 1857 and arrived a few months later on May 1 at Irwin's Bay, St Patrick, Grenada.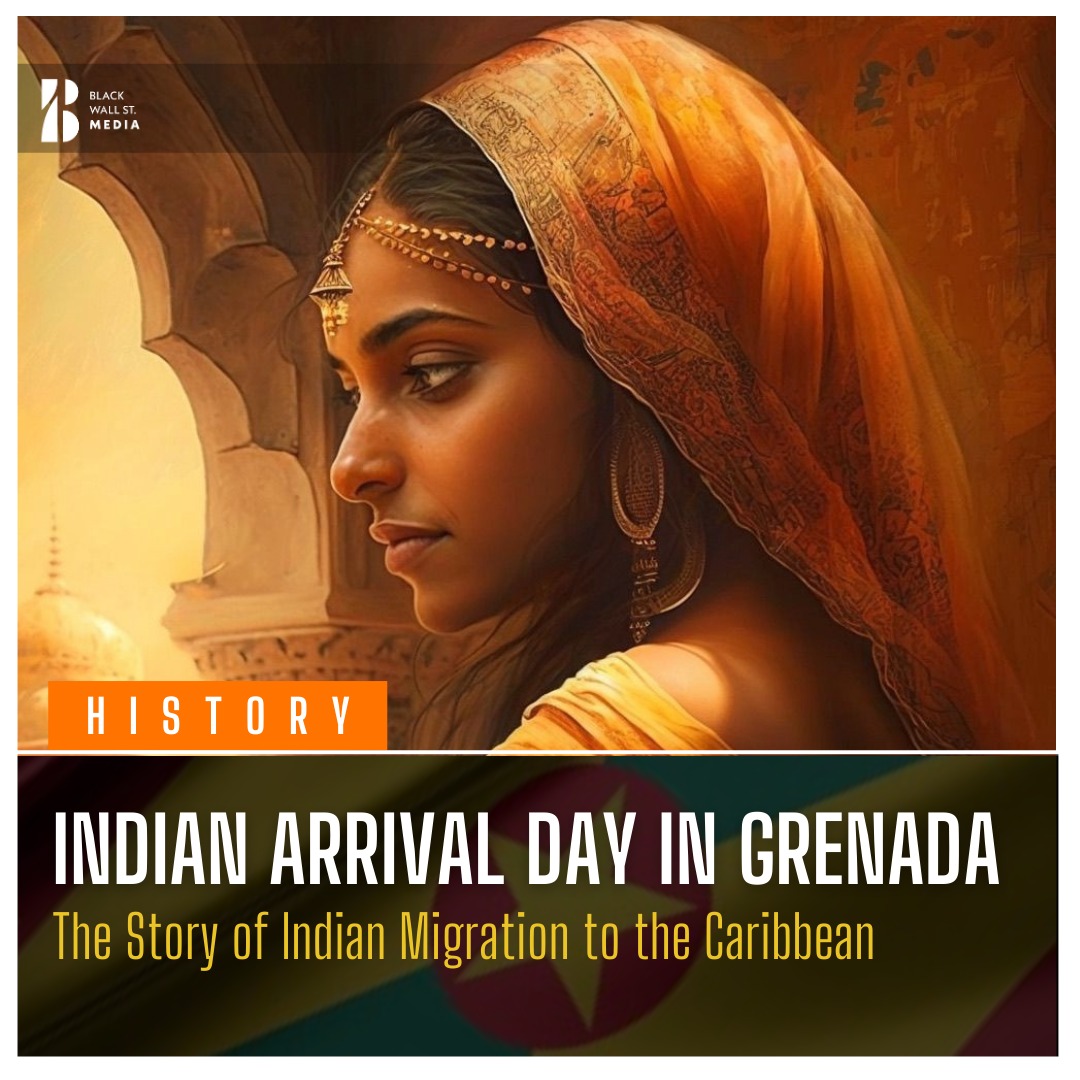 In Guyana Indian Arrival Day is celebrated on May 5th, In St Lucia (May 6th) In Trinidad and Tobago ( May 30th) In Suriname (June 5th) In Saint Vincent and the Grenadines (October 7th) In Mauritius (November 2nd)
It is estimated that 268 males and 68 females boarded the ship and of that number approximately 24% of them died in transit.
Upon reaching Grenada, it is believed that the survivors were first taken to Belmont Estate as a holding area and were then distributed to about 15 plantations in St Patrick.
Life in Grenada was difficult for the Indians due to the cultural differences, language barrier, and the imbalance in the number of female to male and being a minority group on the island.
The East Indians were expected to work nine hours a day for a six day work week.
In return, they received free accommodation, weekly food rations and a minimum wage. They were not allowed to wander beyond two miles from the estate to which they were attached, without a pass.
If they were found guilty of disobeying this rule, they were liable to arrest and imprisonment.
Failing to report to work and misconduct were considered criminal offences, which were punishable by arrest and charged with a fine or imprisonment.
Indentureship contracts were initially for one year and later extended to three years. In 1862 five year contracts were granted.
The period of indentureship officially ended in 1890, though some Indians continued to work under existing contracts until 1893.
In that year a few Indians chose to repatriate to India, but most used their bounty funds that they were entitled to, to purchase lands or to start a savings account in the local banks.
It is imperative to note that although one of the original objectives of immigration of indentured labourers failed – salvaging the island as a sugar producer – some of the indentured workers played a fundamental role in converting some estates from sugar to cocoa.
As a result of this combined effort, by 1878, cocoa cultivation had surpassed sugar in its importance to the economy.
Eventually many Indians assimilated into the society and intermarried with the Africans, Europeans and other island inhabitants.
Many adopted the names of the plantation owners, some retained their Indian names and others varied their names in the course of cultural integration.
For instance, in Hermitage the Jagoo family changed to Degale and the Mahadai family to Thomas.
Other typical names are Japal, Nyack, Ramdhanny, Mahon, Paysadee, Panchoo, Budhlall, Narine, Natoo, Lalsingh, Lalbeharisingh, Seunarayan and Nancoo.