Author: Stephen Bourne 

Trailblazers Who Changed Black British Theatre
In Deep Are the Roots, Stephen Bourne celebrates the pioneers of Black British theatre, beginning in 1825, when Ira Aldridge made history as the first Black actor to play Shakespeare's Othello in the United Kingdom, and ending in 1975 with the success of Britain's first Black-led theatre company.
In addition to providing a long-overdue critique of Laurence Olivier's Othello, too-often cited as the zenith of the role, Bourne has unearthed the forgotten story of Paul Molyneaux, a Shakespearean actor of the Victorian era.
The twentieth-century trailblazers include Paul Robeson, Florence Mills, Elisabeth Welch, Buddy Bradley, Gordon Heath, Edric Connor and Pearl Connor-Mogotsi, all of them active in Great Britain, though some first found fame in the United States or the Caribbean.
Then there are the groundbreaking works of playwrights Barry Reckord and Errol John at the Royal Court; the first Black drama school students; pioneering theatre companies; and three influential dramatists of the 1970s: Mustapha Matura, Michael Abbensetts and Alfred Fagon.
Drawing on original research and interviews with leading lights, Deep Are the Roots is a powerful study of theatre's Black trailblazers and their profound influence on British culture today.
"Stephen Bourne is a hero of our history. He has published countless books, always accessible to all, on the hidden stories of our presence on these shores. Let's honour Stephen for quietly shining a light on our history"

Bernardine Evaristo

Booker Prize-winner
"Arguably, anyone can write a history book: collate a few facts, sprinkle some context and, voilà! Job done, a perfectly flawed version of actuality. What Stephen Bourne does in his latest, and definitive volume, is to bring his personal experience of many of the featured trailblazers of black British theatre. In describing his first hand experiences and relationships, he takes the form further than most historians ever can. If there is fidelity in telling a story, it is in books such as Dr Bourne's."

Living History
"This book certainly lives up to its title. Fascinating stories of those who trod the boards, and I liked the personal stories shared by some of their living descendants. All in all, a book well researched and well written."

Another great read from Stephen Bourne
"Mr Bourne strikes again with another brilliant book, once again telling the stories history left out. Would recommend to anyone with an interest in theatre and black culture."

Another fantastic book from Mr Bourne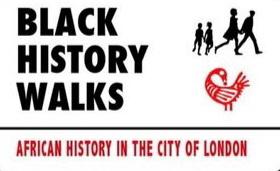 Information and over 180 videos on Black British and international history which features a black (African) perspective. Each clip has a brief description and sometimes a website where more info can be obtained. New videos added monthly. More information on the website.
Walks, Talks and Films on the African History of London