It's all about mindset
By Aysha Iqbal – Founder of Wizz Media
Isaac Harvey has a condition called hypoplasia, which means he has no arms and a weak pelvis, as well as scoliosis (the curvature of his spine).
Fostered at 2 weeks old and later adopted by the same family aged 5, Isaac has always been surrounded by supportive family and friends.
We speak to him about how he has overcome adversity to reach his goals and dreams.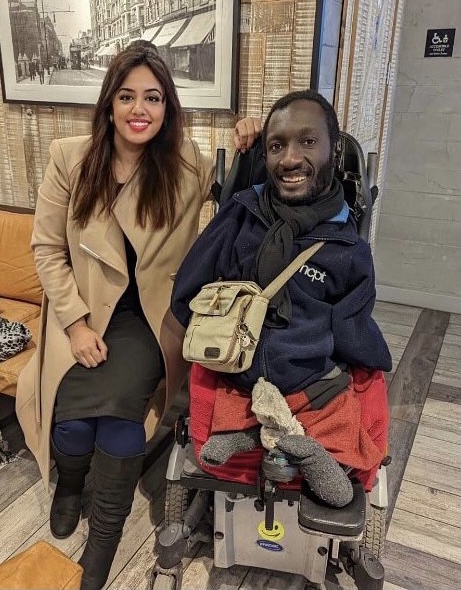 AI: When did you first become conscious of your disability?
IH: Growing up my friends and family treated me like everyone else and the school that I went to were very helpful. When it comes to my disability, I have just been treated like everyone else and never been discouraged not to do things. One of the times where I truly see myself with a disability is when I travel on public transport like the tubes which can be tricky at times and require support from the helpful assistance at Transport for London. I'm very happy how this has allowed me to continue to have my independence but definitely makes me more aware of my disability.
AI: Was it difficult growing up as a teenager with your disability. With peer pressure and those difficult teenage years. How did you cope?
IH: It was very 'different' because I was not like everyone else. However, during school I had a lot of support and assistance during class and when eating in the cafeteria. I had to rely on the school bus to pick me up whilst everyone else would make their own way. The growing up stage was good in that people around me were very helpful and that helped me to develop the mindset that I could achieve anything.
AI: Your situation seems to have been quite positive overall. Why do you think that was?
IH: I think it was because I needed so much help to get through day to day life which definitely showed me a different side to life. I also saw it the other way round where my peers in my class had to help me such as assisting me to class where sometimes we would take the lift and getting stuff out of my bag. I think that is something that they will carry with them into their life now. They had to adapt to me as I had to adapt to them so we both benefited from the circumstances. Even PE was different in some ways. We learnt lessons from one another.
AI: Your experience has also probably exposed you to human kindness on another level as your condition can bring out the more compassionate side of people.
IH: There are sometimes when I do ask complete strangers for help and they do it. I have definitely seen a kinder side of the world than most people as I have to rely on it to live basically. But saying that not everyone one is kind. I used to see people staring at me as a negative situation but I realise that people are just interested and are sometimes too scared to ask questions and feel that they may offend. I am more than happy to answer people who have questions as I feel if I don't there is no chance for us to grow.
AI: You were fostered at two weeks and then adopted by the same family at 5, how has this been for you?
IH: Growing up with my family has been great because they have always treated and seen me as their own. As I do not know any different, I would consider myself to be very grateful to be in their hands as if I was part of another family my life would have taken me down different paths I wouldn't even know about. For example, we may have never had the chance of speaking now! It's interesting when you think how life could have taken a huge turn with a slight change.
AI: You have also had mental health challenges in the past and have experienced depression. Tell us about this?
IH: Obviously there's struggle every day with my disability that I can overcome. I feel that the biggest challenge I have had to overcome was my mindset and finding inner happiness and feeling good about myself. This was very difficult to do because I didn't feel I had anyone to turn to. I didn't want people to see that I could not cope as everyone saw me as inspiring. So by changing my mindset I was able to find my way out of the negativity as I now focus on being positive and accepting life as it is.
AI: Is race itself an issue for you in your daily life as it would for the average black man?
IH: Most people I see only see my disability first. I think people always notice the wheelchair first rather than my skin colour. I am also really involved in the disabilities arena and that is what I tend to focus on so that tends to be the feedback I receive and the issues I work with.
AI: You are involved in so much amazing stuff. From holding the Olympic Torch to being the president of Wheels and Wheelchairs to skydiving. Where do you find the motivation?
IH: I like doing things that people don't think that you can do with a disability. Also, if people get inspired by the things I'm doing than it pushes me to want to do more.  I want to show people that if you put your mind to it anything is possible.
AI: Tell us about this exciting fashion project which you are involved in as a model?
IH: It's a woman called Victoria who started a clothing brand called Unhidden Clothing to give representation to those not represented by the mainstream fashion world. That is also in partnership with so many different fashion brands. A couple of years ago I did not understand the fashion world but now that I am in it and involved with those who are trying to make it more inclusive, I do understand the importance of it and see that the fashion world has a long way to go. And because of this amazing opportunity I have met a lot of individuals who are doing incredible work in this space and there is a lot more collaborations in the pipeline.
AI: What other plans do you have in the pipeline?
IH: With my life I don't really have a direction anymore as I like to keep it open and not stuck to one path. I have always had a very creative mind which has put me in many different avenues and one of them is to become a better public speaker when it comes to motivational speaking.
Therefore I've taken up coaching with Wizz Media to train me up to be a more powerful public speaker. I'm hoping with the skills learned I will be able to continue to talk about disability and inclusion in a more confident and powerful way to get the audience engaged. I want to get people to take something away that they will remember forever.
With Wizz Media, I'm learning how I can become a more confident and powerful public speaker and understanding how to deliver my messages more effectively.
Wizz Media have been really engaging and helpful and the support I have received has gone beyond the training. So thank you!
Click on image  below to learn more about Wizz Media 

Welcome to our Spotlight Sessions, a series dedicated to conversations with change-makers and people that have made an impact on the community of people with disabilities.
In this episode, we had the chance to speak with Isaac Harvey, video editor, influencer, creator, and disability advocate. Isaac was born with limb pelvic hypoplasia and scoliosis and is the President of Wheels and Wheelchairs, a London based group of able-bodied rollerbladers and wheelchair users.
Isaac started his career vlogging and posting different adventurous and sports activities on YouTube, which eventually led to becoming active on multiple social media platforms and winning various awards and prizes, such as the Shaw Trust Disability Power 100! Isaac shared his thoughts on the following topics:
1. His disability and broader work at Wheels and Wheelchairs.
2. How he got into vlogging and advocacy.
3.

The transition of his social media persona from YouTube to Linkedin.
4. How he got involved with the Disability Power 100.
5. What accessibility means to him.
6. How people can have more of an open mind when it comes to accessibility and disability.
Want to know more about how people with disabilities access websites using accessiBe's web accessibility solutions? Get in touch at

https://accessibe.com/