Guyana's Gift to British Civil Rights
"Introducing the life and legacy of Rahasya Rudra Narayan, better known as Rudy Narayan - a stalwart of the British legal community and a tireless advocate for civil rights. From his humble beginnings in Guyana to challenging systemic barriers in Britain, Rudy's story is a testament to resilience, passion, and relentless pursuit of justice. Dive deep into his inspiring journey, from his early days facing challenges as an immigrant to his impactful contributions to Britain's civil rights movement. A true icon of our time."

Black Wall St. Media

Contributor
Rahasya Rudra Narayan: The Eloquent Advocate for Civil Rights in Britain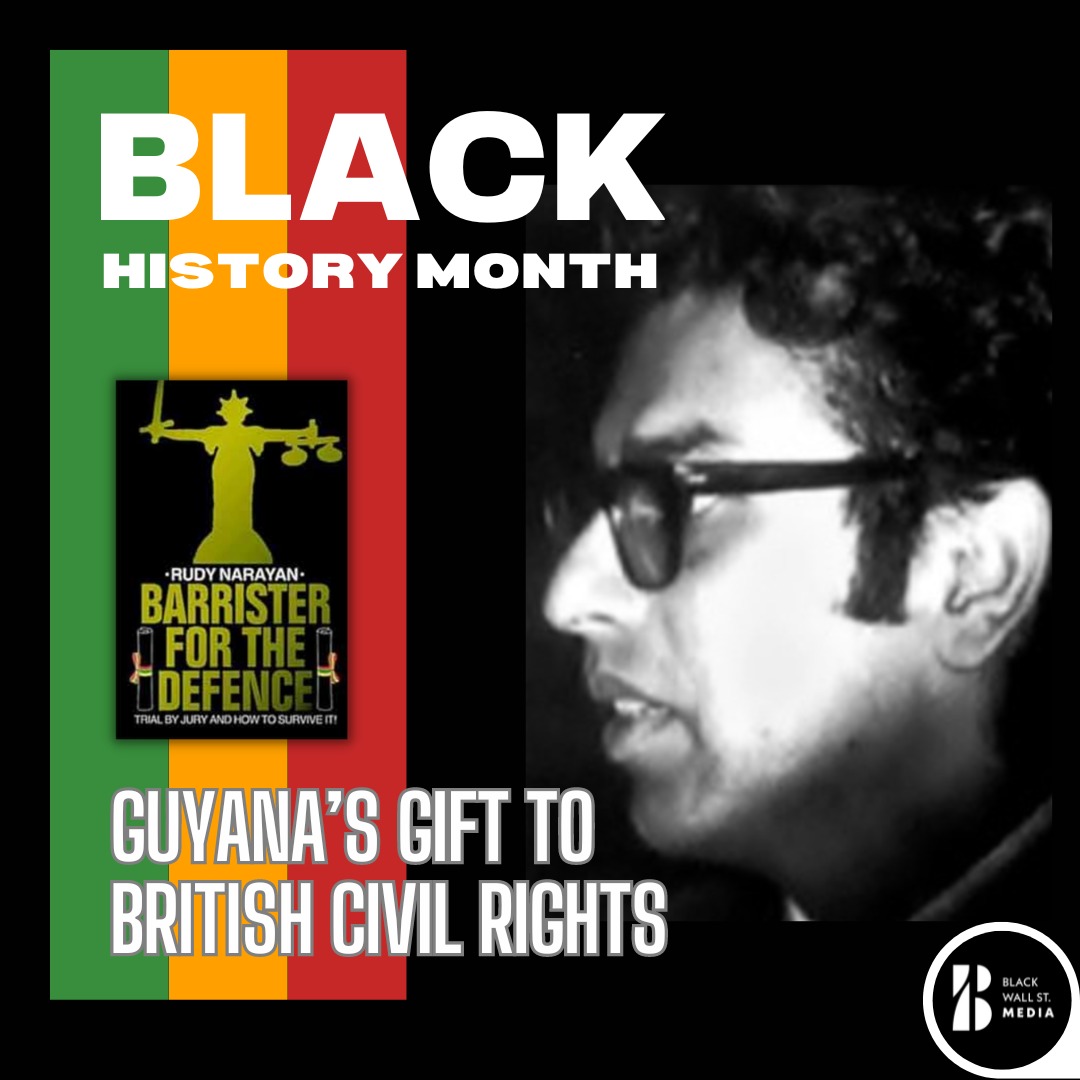 This #BlackHistoryMonth, we're highlighting the formidable Rahasya Rudra Narayan, fondly known as Rudy Narayan. A beacon in the British legal community, Rudy stands as an unwavering advocate for the oppressed and marginalized.
Rahasya Rudra Narayan, affectionately referred to as Rudy Narayan, was an emblematic figure in the British legal community and civil rights movement, serving as the voice for the oppressed and marginalized.
This article seeks to capture the life, legacy, and persistent struggles of this remarkable man, who consistently challenged the existing socio-legal frameworks and played a pivotal role in Britain's civil rights history.
Origins and Early Life
Born in Essequibo County, Guyana (formerly British Guiana) on 11 May 1938, Rudy was the ninth child of Sase Narayan and his wife, Taijbertie.
His journey to Britain began in 1953, when he migrated from Guyana in search of opportunities and better prospects.
However, his initial years in Britain weren't easy; he worked in various roles such as street cleaner, a worker in a Brillo Soap Factory, and at Lyons Tea House, before enlisting in the Royal Army Ordnance Corps. Climbing the ranks to sergeant, his military service of seven years provided him with discipline and determination.
Venturing into the Legal Realm
After exiting the British Army in 1965, Narayan pursued law at Lincoln's Inn. Demonstrating leadership qualities early on, he was a founder and the first president of the Bar Students' Union.
He was officially called to the Bar a couple of years later. Collaborating with Sibghat Kadri in 1969, they formed the Afro-Asian and Caribbean Lawyers Association, later renamed the Society of Black Lawyers.
Narayan's involvement didn't end there; he initiated the first voluntary legal advice centre in Brixton, which subsequently birthed the Lambeth Law Centre.
His passion for offering legal support to marginalised communities saw him set up legal advice centres across cities in the UK, including Birmingham, Bristol, Cardiff, and Manchester.
Pioneer in Minority Defense and Controversies
Narayan's career as a barrister was most notable for his vigorous defense of the Black Panthers, ethnic minorities, and victims of police violence.
Michael Mansfield, one of Britain's most prominent barristers, even remarked that Narayan deserved to be the first black QC.
However, it wasn't a smooth path. Narayan constantly battled against racism within the legal establishment, which even saw clients being falsely informed that he was unavailable.
Additionally, his unabashed criticism of perceived racial biases within the legal profession led to various disciplinary actions. One such incident in 1982 saw Narayan accuse the Attorney General and the Director of Public Prosecutions of colluding with the National Front, a far-right political group.
Political Ambitions and Challenges
Outside his legal career, Narayan was politically active, serving a term as a Labour Party councillor to Lambeth London Borough Council starting in 1974.
However, his political ambitions faced hurdles, with his selection for Birmingham Handsworth overturned due to allegations of antisemitic comments in one of his books.
Narayan's life also witnessed personal and professional lows, including a physical altercation with Sibghat Kadri, his disbarment in 1994, and his failed attempt to win a parliamentary seat in the 1989 Vauxhall by-election.
Return to Guyana and Later Life
Narayan's ties to Guyana remained strong. In 1991, he returned, hoping to establish a legal aid centre. Despite facing challenges, he came back to Britain in 1994, but the latter part of his career was marred by disciplinary hearings and controversies.
Yet, his influence on the global stage was undeniable. This was evident when he was invited to speak at the 50th-anniversary celebrations of the NAACP's Legal Defence Fund in the U.S.
Literary Contributions and Media Recognition
Narayan's advocacy wasn't limited to courtrooms. He penned several books, such as Black Community on Trial and Barrister for the Defence. His life story was also translated to the screen in Black Silk, an eight-part drama series aired in 1985, starring Rudolph Walker.
Legacy and Tributes
Rudy Narayan's demise on 28 June 1998 marked the end of an era. His battles with alcoholism culminated in liver cirrhosis, leading to his passing at the age of 60 at King's College Hospital in Lambeth, London.
His funeral was a testament to his impact. Brixton stood still, with poetry readings and the Mangrove Steel Band playing tributes.
His memory lives on, with a commemorative plaque unveiled in 2010 at his former office in Brixton. The Windrush Foundation, in 2018, held a public memorial, naming him a Windrush Champion.
While Narayan's life was fraught with controversies, his commitment to justice and civil rights remains undeniable.
"His legacy as a champion for the oppressed and marginalised will long be remembered in Britain's legal and civil rights history.

Black Wall St. Media

Contributor