DO YOU KNOW … how the first breadfruit plants reached the island of GRENADA?
In previous posts, I referred to the incredible networking of one Alexander Anderson, the Superintendent of the British government's only botanical garden in the eastern Caribbean, just outside Kingstown, in St Vincent.

 
Alexander Anderson was born in Aberdeen, Scotland, and studied at the University of Edinburgh. He left the university in the early 1770s to join a fellow native of Aberdeen, William Forsyth, head of the Chelsea Physic Garden, to pursue his fascination with botany. 

By 1784, Forsyth was head gardener to King George III at St. James's and Kensington Palace Gardens – very well connected! In 1774 Anderson left London for New York to seek employment as gardener. While there he sent botanical specimens and seeds to Forsyth. Anderson was a prolific letter-writer and developed a worldwide network of correspondents. This included decades of correspondence with William Forsyth and Joseph Banks.
When the American revolution began, Anderson left for Surinam to avoid being pressed into military service. By 1783 he was on St. Lucia, at the British military hospital, working with Dr George Young identifying plants of medicinal value. Later the same year, he was asked to help at the military hospital-cum-garrison in Grenada, overlooking St. George's. This connection may have been important in the transfer of breadfruit specimens. 
Anderson then joined Dr Young on his return to St. Vincent in 1784 and became the first European to climb the Soufriere (at 4,048 feet, the highest peak on the island). Dr Young realised that not only was Anderson experienced as a naturalist but active in the field. Young recommended that Anderson succeed him as superintendent of the botanical garden. 

Formal notice of his appointment was by Sir Joseph Banks and the War Department in 1785 and Anderson held the position until his death in 1811. Seven years later, in 1793, he received Bligh's shipment of 500 breadfruit suckers from Tahiti, as well as other fruit trees, with instructions to supply all the British possessions, including Grenada. 
Botanic gardens were not established in Grenada until 1886. Anderson would have probably contacted property owners who he had met earlier and supplied breadfruit suckers directly to them. But no amount of online searching on my part has turned up who these planters might have been! 
Based on so many Scottish connections in my breadfruit stories, I imagine that when Anderson was on Hospital Hill above St George's he would have made the acquaintance of Alexander Campbell, owner of several estates – Tivoli, Mount Liban, Rose Hill, Saint Cyr, and Achilles.  Campbell had added (jointly with another Scot, the future Lieutenant Governor, Ninian Home) the St John estate and half of Paraclete. He had also purchased Mustique with yet another Scot, John Aitcheson.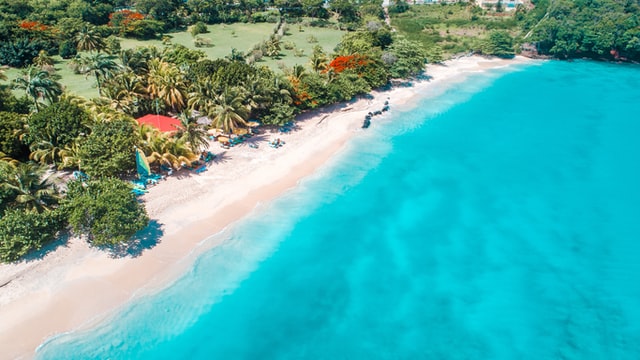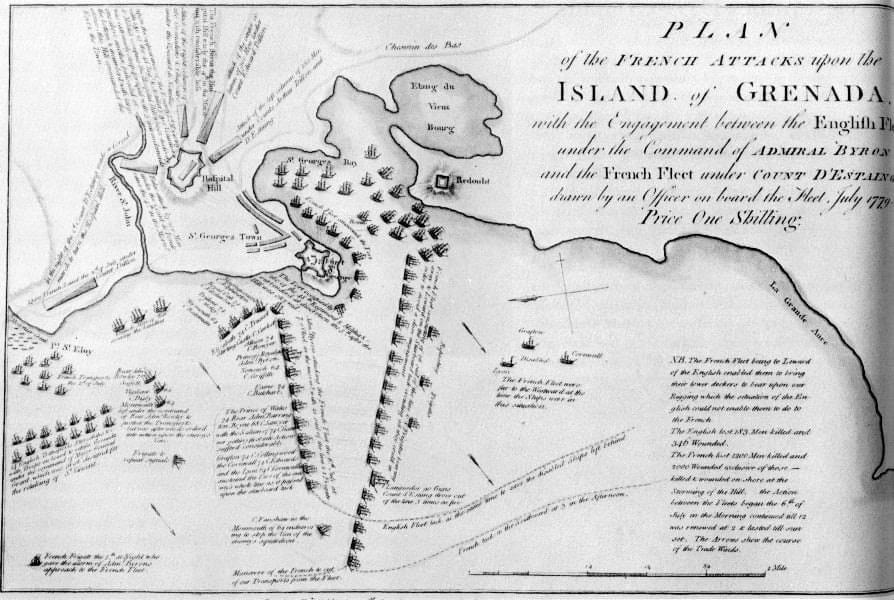 Alexander Campbell and Governor Ninian Home had been taken hostage to ward off possible attack of the rebel headquarters. The British military ignored their plight and attacked several times. On the third such attack, under orders of one of the rebel leaders, Julian Fedon, both Campbell and Home were executed – along with 40 others.
This story is lacking in facts. We know Anderson was busy complying with London's orders to distribute breadfruit in these very years, and we know that his Scottish countrymen were important contacts. So did the suckers arrive on the eve of this major rebellion, and the death, disruption and agricultural decimation that followed? Or were specimens sent after the British regained control in 1797 amidst the victor's rampage of execution, and of  expulsion of French and Catholics?

Perhaps historians of Grenada have some answers. Somehow the suckers arrived at the turn of the 18th century and thrived. Breadfruit became established in every parish and in every Grenadian kitchen!
This post is in support of the work of the TREES THAT FEED FOUNDATION. This series of Facebook posts examines how breadfruit and other fruit trees from Tahiti arrived in the Caribbean in 1793 and how they became a treasured part of Caribbean culture and nutrition.