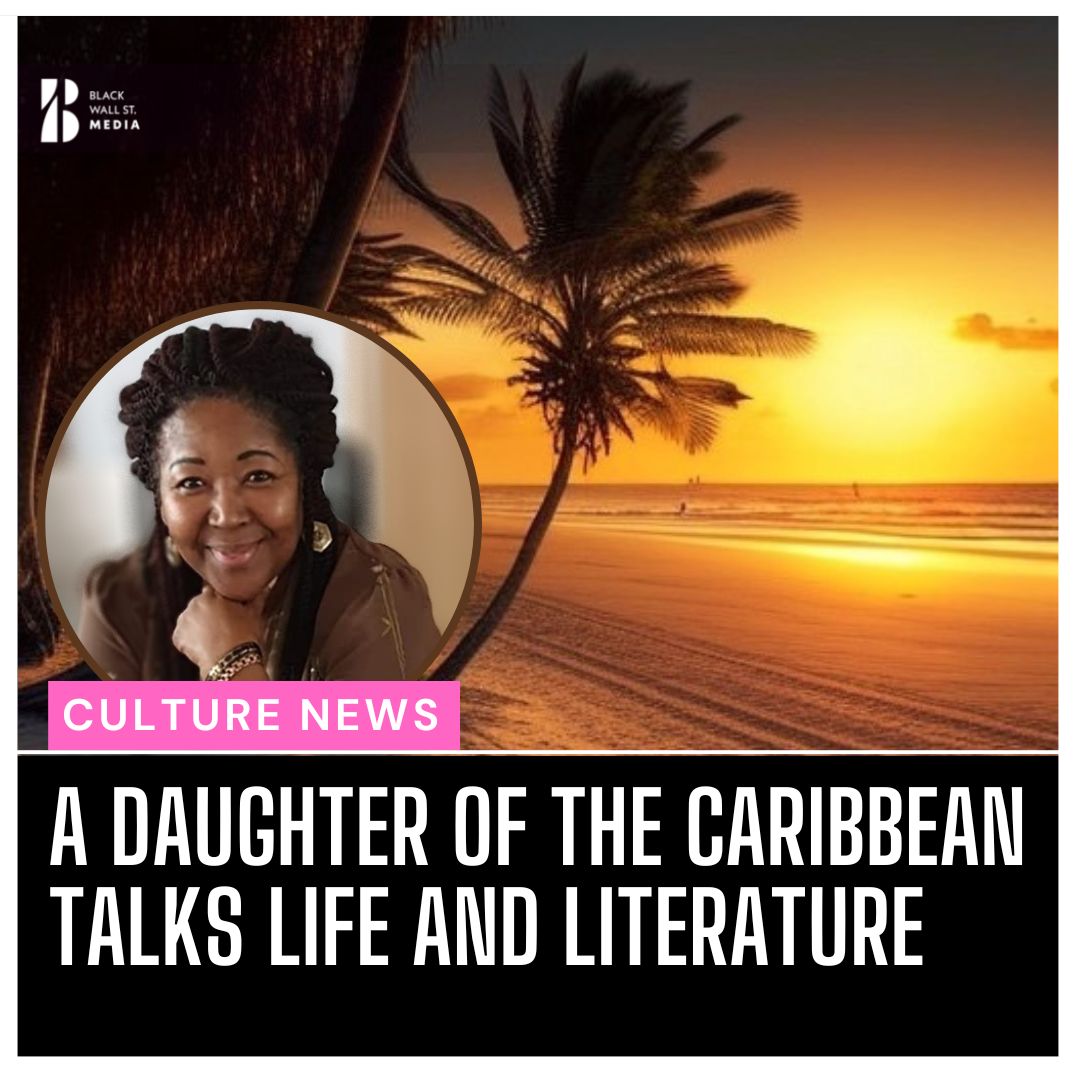 A daughter of the Caribbean talks life and literature
Deanne Heron was born in Jamaica and moved to Manchester, England in 1967, where she still lives. She is a qualified counsellor/trainer and foster carer. She is the author of the 'Pardner Money Stories' - two volumes of short humorous stories about her Jamaican culture based around the interactions of four generations of an extended Jamaican family in Britain. In addition to 'Pardner Money Stories', Deanne has written two volumes of poetry entitled 'Contemplation'. She is currently working on the third volume of both series. Deanne reads her poetry and stories at local events and on local radio and presents African and Caribbean news and Black History Month programmes. She organises local health and wellbeing events and facilitates workshops for aspiring writers. As well as being an author and presenter, Deanne is also a qualified counsellor/trainer and foster carer.
Four years Ago, Jamaican-born Deanne Heron released the Pardner Money Stories, a critically acclaimed 2-volume series that captured immigrant life in Britain.
It was colorful and written with a joie de vivre that became the hallmark of Heron's books.
Recently, she ventured into Sci-Fi, an unlikely genre. Her 'Mandari Chronicle' is a 800-page thriller that has sealed Heron's place as a veritable Caribbean writer. In this edition of The Writer's Corner, she talks life and craft, and everything in between.
Glenville Ashby (GA): Tell us about your passion for writing.
Deanne Heron (DH): I call my writing, especially my poetry, my therapy. It is my way of coping with modern life, learning about who I am, processing that information and allowing it to increase my self-worth and confidence.
(GA): Did you pattern your style after a particular author? What's your favorite book and author?
(DH): I remember listening to writer, poet and comedian Louise Bennett-Coverley, known as Miss Lou in Jamaica so I think she might have influenced me. I didn't consciously pattern my style after any particular author. I just wanted to capture my precious memories of black family life when I first came to England, my memories of being in Jamaica until I was nine year old and the unique patois dialogue and Jamaican sense of humour.
GA: Has the digital age hurt the traditional writer and novelist?
DH: I don't think so. I think the digital age has opened up a fascinating new world. It has added to the skills of traditional writers and novelist. Although I love to write with pen and paper, having my computer takes my writing to another level because it is so much easier now to write, rewrite/edit, check facts and grammatical errors, etc. Just as being born in Jamaica and living in England since I was a little girl has made me a product of two very different unique cultures, being a part of the no mobile phone, pen and paper age and the digital age, have given equally unique qualities and insights into human beings and life in general.
GA: Your 'Pardner Money Stories' enjoyed critical acclaim. What was the foundation of this work?
DH: I just wanted to capture my happy memories of family life, the extended family, the supportive black community which existed when I first came to England in 1967.
Sadly, family life and the way the black community was, has changed. I wanted to pass these positive memories on to my children, grandchildren and others.
Due to racism and my accent being mocked daily in school, I had to lose my Jamaican accent overnight on my arrival in Britain. I quickly became aware that most black people in Britain lived 'double lives'.
In public or among white people, they spoke English and behaved in a subdued manner. Once they came home or got together with a group of other Caribbeans, the accents would come out, along with the loud laughter, humour and delicious spicy food.
GA: Tell us about 'Contemplation' and your debut into poetry.
DH: I have been writing poetry since I was a teenager. I have had two volumes of poetry published call Contemplation, and they are just that; me contemplating life.
I call my poetry my therapy because they help me to process and make sense of the things happening around me, good and bad.
My primary school teacher, Mr Lawrence, sparked my interest in poetry. He took me under his wing when he realised the racism I was suffering from the other children and I think alerted the other teachers.
He used to read poetry to us at the end of the day such as The Highway Man by Alfred Noyes, Matilda by Hilaire Belloc and many others.
GA: Your work has taken a different trajectory. Tell us about your latest book, 'Mandari Chronicles.' Its quite voluminous and takes you into another genre all together – Sci-fi, for that matter.
DH: I have always had an interest in science-fiction but mainly reading, not writing. I remember reading J. R. R. Tolkien's The Hobbit many years ago and it set my imagination going.
I kept thinking, where on earth did humans get these ideas from about elves and dwarves?
Then I began to have the most vivid, weirdest dreams over a period of time. I was taken back in time and shown that it wasn't just humans on the Earth originally but THREE races, elves (the elemes), humans (the medians) and dwarves (the hawsers) until the Race Wars.
Originally we had the full use of our brains, unlike today.
We were telepaths and could transport ourselves anywhere we wanted to. The Race Wars resulted in the Earth having to be cleansed by God – The Flood. The elves who had retained their purity were taken off the planet.
A select group, The Chosen, were taken to another planet, Mandar. The MandariChronicles tells the story of how The Chosen developed on Mandar compared to the few who were left on earth.
Fast forward into present time and the Mandari are at war with the strange beings from the planet Khron.
Then one day, Kemil Hakaru, a Mandari Kwa Nu knight, ends up back on modern day Earth with the help of the strange black woman, Lexis, who also turns out to be an alien.
And that is where the story in three books really begins as Lexis and Kemil, caught up in a love triangle, try to restore peace and realign the races on their trajectory of greatness.
GA: What can be done to increase interest in Caribbean literature regionally and globally?
DH: Firstly, accurate history including the journey of black people from Egyptian times, the contribution of African countries of people and global wealth, needs to be taught in schools, colleges, etc.
There are many black writers and have been for centuries, but we are fortunate that today we have the opportunity to promote our work and reach more people, worldwide.
We just need to continue doing what we are doing, writing our stories and putting them out there via social media and community events.
More people need to do what you're doing Glenville and help to promote others.
GA: How are you ideas for a book conceived?
DH: Usually I get an idea which just won't leave my head. I then begin to jot things down as they come to me, sometimes in the middle of the night.
I write, research and write again, ensuring that my writing is grammatically correct and try to share something of my culture that people might not already know.
I facilitate writing workshops in our community and I tell my students to first decide who their audience will be, who are they aiming their book at and why, and keep that in mind as they write. It is also important to write from our own unique perspective.
GA: What advise would you offer to upcoming artists?
DH: I would say we all have an interesting story to tell but decide what is your unique perspective and focus on that.
Do your research into your topic, seek help and advice probably from writing workshops or local writing support groups – there are many now on social media.
Be brave and put your work out there, seize opportunities to promote your work. Sadly, publishing can be a nightmare, so do your research carefully and be careful what you sign. Also research copyrights.
GA: What next for Deanne Heron?
DH: Since the beginning of the Covid-19 pandemic, I have been journaling poetically and have written enough poems, trying to make sense of what is happening, probably to publish two more volumes of Contemplation.
I think I will probably be preparing Volume Three of Contemplation for publication in 2021.
(The views expressed in this article are those of the author and do not necessarily reflect the opinions of this newspaper.)
The Mandari Chronicles
Lexis Carmichael has always known she was different and that she…just didn't belong. But nothing on Earth could have prepared her for how she would unravel the real truth of not only who she is, but that of mankind.
Lexis' life on Earth takes a dramatic turn when Kemil Hakaru suddenly lands unannounced in her garden one winter's night from another world. Having taken this fascinatingly beautiful man into her home, the two form an unbreakable cosmic bond greater than any mere mortal could ever experience.
Through that love, Lexis discovers her true origins, her real powers and a new dimension to the history of man, all documented in the Mandari Chronicles. The Chronicles document the origin of mankind from the original races of Earth once known as Terra – elemes, hawsers and medians – and their intergalactic sojourn to Planet Mandar. Thousands of years later, the races are now divided across two planets, Mandar and Khron, and are at war.
It is at this juncture in time that Lexis and Kemil must, through their love, fulfil their purpose as foretold in The Chronicles to restore peace and realign the races on their trajectory to greatness.
Through all the heartache, loss and shock discoveries, will they fulfil The Mandar Chronicles, restore alignment to purpose, reveal the hidden truths and will love and freedom prevail?
"This story spans generations, lightyears and millennia in a beautiful tapestry. A sweeping epic of cultures and communities that could easily have existed before recorded time and what might have become of them. The characters are rich and familiar even in unfamiliar settings; we love with them, laugh with them and feel tears as they suffer... turning the page desperately to know if they will endure and thrive or face some new challenge.

This is one of the most original Science-fiction stories I have read in a long time. One that effortlessly weaves together ideas of history, philosophy, technology, culture, religion and matters of the heart. I couldn't put it down and suggest you prepare for twists and turns, unexpected sacrifices and hopes from the first words to the last."

An Epic Story
"I thoroughly enjoyed reading this book. It has whetted my appetite and I'm craving more. I recommend this book to everyone who loves SciFi and those who don't will become interested once you read this book. I definitely recommend this for the silver screen.....move over Star Treck and Star Wars."