Trevor Sterling: 'I want to see the second black senior partner now'
Moore Barlow's Trevor Sterling is believed to have made legal history by becoming the first black senior partner to be elected at a UK top 100 law firm – but the personal injury solicitor is already looking ahead. 'I've been involved in a run of firsts. What I want to see now is more 2nds, 3rds, 4ths and 5ths.'
Why has it taken so long to see the first black senior partner?
'The reality is, the legal profession is reflective of society to the extent there are certain inequalities and imbalances that exist,' says Sterling. 'It's not unusual if you look at a number of other sectors… but the legal profession has an additional layer which involves the academic background which many people from ethnic communities do not have in the traditional sense. If you have got a process that does not recognise those who come from more diverse forms of qualification or individuals who haven't been to Russell Group universities, they're often not regarded in the same way as those who have.'
Those in leadership positions will often recruit individuals reflective of themselves, he adds. 'That presents a huge barrier and hurdle for many people from ethnic communities, particularly those from the black community.'
Once a person from an ethnic community enters the legal profession, 'you've now got to somehow work through and be elevated when you're possibly up against the perception of not being as able as some of your counterparts from different social backgrounds'.
However, Sterling says there have been some positive changes. For instance, there are more diverse qualification routes, enabling people from different backgrounds to come through. Diversity has been accelerated by societal changes, too. 'It's not enough to recognise some of the disadvantages and difficulties out there, we have to do something positive about that. More people are engaged in this area which requires positive action, and that's reflected in the reaction of the announcement of my appointment. People who have acknowledged and applauded it have come from all different backgrounds.'
---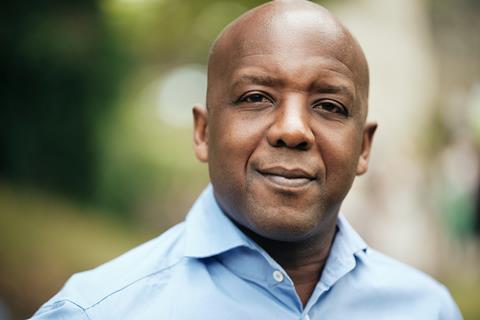 The fact Sterling's appointment has raised the question of why it has taken so long to see a black senior partner 'will lead other firms to acknowledge the wider issues that need to be addressed'.
The perception of certain members of ethnic communities has been changing, but Sterling believes black men in particular suffer significantly from a perception derived from historical issues.
'We have still got a way to go to level that up. Equally, the more success stories we see the more we are going to see those from ethnic communities more confident about going into positions and less of an imposter syndrome when they are in those positions.'
Decision-makers need to look at people 'in the context of what their journey has involved and not in the context of the traditional way of qualifying as a lawyer'.
Sterling has previously said his unconventional legal training gave him a different perspective as a lawyer. He left school at 17 'without any idea of what I was going to do' and entered the profession 'by good fortune', working as an outdoor clerk for trade union form Rowley Ashworth. He qualified as a legal executive in the first instance while working full time. By the time he qualified as a solicitor at 26, he already had nearly 10 years' experience. He obtained partnership at 28.
Today the Solicitors Regulation Authority introduces a new route to qualifying as a solicitor. Sterling says the previous system had two problems. Firstly, it was 'incredibly expensive' to do the LPC. Secondly, it was difficult to secure a training contract. 'Those two things have meant there has been an inadvertent filtering process in many ways. We need to find alternative ways where people can qualify with their jobs and be able to afford to get themselves into positions.'
To ensure equality of opportunity and outcome, Sterling believes data is important, as evidenced by judicial diversity statistics published last month. The proportion of judges who identified as black, Asian or minority ethnic increased from 7% in 2014 to 10% this year. The proportion of Asian judges rose by two percentage points, to 5%, since 2014. But the proportion of black judges was just 1% – a figure that hasn't moved in the past seven years.
Sterling says: 'One of the things I'm really keen to ensure is we do not refer to BAME statistics. We are not one homogenous group. What we have seen is increases in certain ethnic communities in the legal profession and that's perhaps not surprising because of what I said about academic background. There are certain ethnic communities who have achieved better through the education route.' Those academic high achievers, he says, reflect increases and improvements within the data. 'We have to drill into that. If you're black and male in particular, there are real challenges.'
I mention my own journey and how, for several years, I didn't want to be defined by my gender or ethnicity. In the last couple of years, I've begun to embrace both. Was it the same for Sterling? 'I have felt over recent years people have been given a sense of belief by my journey,' Sterling says. 'There's a responsibility on my part to give people that belief and be an ambassador for the notion that diversity is important. I often say I spent the first half of my career very conscious that I was black, the second half of my career celebrating [it]. Celebrating my difference in a positive way because difference is good. I do not carry it as a burden, I feel privileged.
'But equally, that wasn't a driver for me to want to become senior partner. The driver was I felt able to and wanted to play a lead role in what I think is an excellent firm.
Sterling points out he was elected senior partner by a significant number of partners across the business. 'This was not on the basis of "If we do this I make history". It was on the basis of believing I have something to offer, on the basis of my experience and ability. Having achieved that, there was a sense of "This is a remarkable opportunity for the firm to lead the way on this, so let's tell people because other firms may reflect on how they lack diversity.'
Sterling notes he is part of a number of 'firsts' in a short period of time. The first statue of a named black woman in the UK was unveiled in 2016 – Mary Seacole, a Jamaican-born nurse who overcame racism and injustice to nurse soldiers during the Crimean war (the statue is sited at St Thomas' Hospital, directly across the River Thames). Earlier this year I. Stephanie Boyce became not only the first black president in the Law Society's 177-year history but also the first president of colour.
'I've been involved in a run of firsts. What I want to see now is more 2nds, 3rds, 4ths and 5ths. This is not about race. It's about social mobility. It's about levelling up.' When those from socially disadvantaged backgrounds progress, 'it's about them not having to be a chameleon, it's about being their authentic self'.
But when it comes to his legacy, Sterling wants to be remembered for his legal and community work. These include representing a number of victims of the Westminster terror attack as well as the families of victims of the 2016 Croydon tram crash. He is also chair of the Mary Seacole Trust, which seeks to build on Mary Seacole's legacy to promote fairness and equality, including diverse leadership in public and private services.
The trust's website says Mary is a role model and inspiration for people from ethnic communities who encounter institutional racism on a daily basis. Sterling is undoubtedly a role model and inspiration for solicitors from ethnic communities wanting to aim higher.
SOURCE: https://www.lawgazette.co.uk/news/trevor-sterling-i-want-to-see-the-second-black-senior-partner-now/5109442.article?fbclid=IwAR1yopTMEQ0nacwqLKJnLM_Oj2WZk6Iq9iEffx_G_auL6l0yNS0RMnwcACw
Services
As an organisation, we are committed to the following:
Work alongside anti racist charities
Liaise and convey reforms with local MPs
Review strategies with certified legal practitioners
Promote and distribute relevant online petitions
Work directly with the general public to review and validate their initiatives with the intention of turning an idea, into legal, lawful amendments
Legal employment advice
Referrals on various legal matters via our accredited partners
Corporate race relation training and workshops