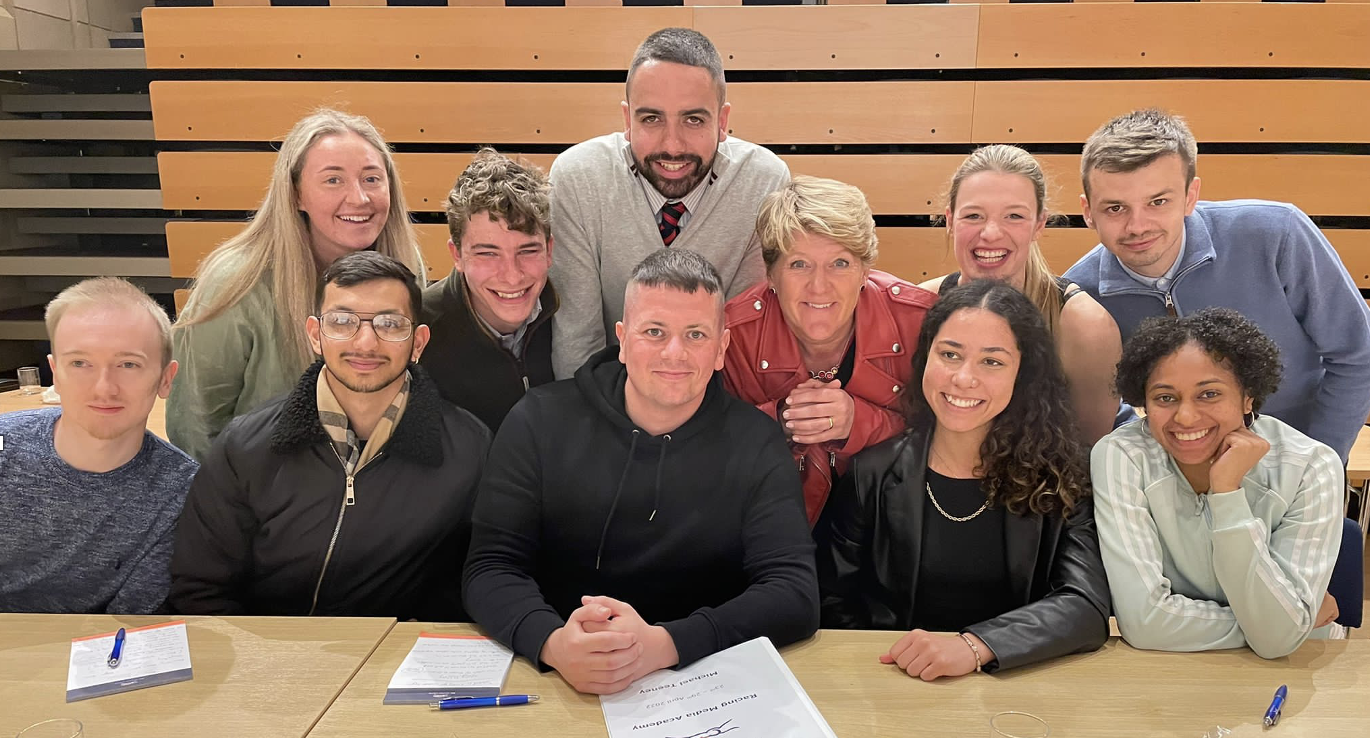 Following the success of the inaugural Racing Media Academy in 2022, applications for the 2023 programme are open from 1st December to the 31st December 2022; with new media partners and placements added to the course.
Launched to increase the diversity and inclusion in British racing's media

An initiative that forms part of the Racing Pathway Strategy www.racingpathway.com

Joint funded by the Racing Foundation and Media Partners

Twelve placements and eleven Media Partners
Applications now open Download Racing Media Academy launch video here Embed Racing Media Academy launch video here 1 st December 2022: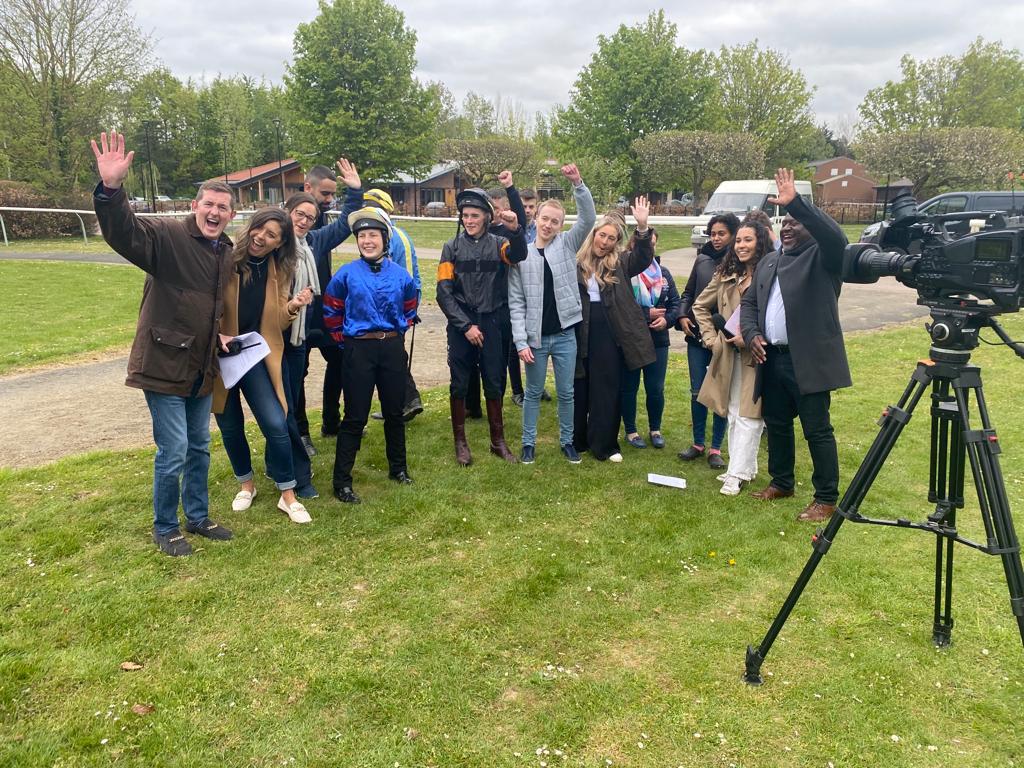 The Racing Media Academy was devised and founded by broadcaster and entrepreneur Josh Apiafi, after identifying the barriers to getting new diverse talent into the horse racing media.
Following an interview on Sky two years ago, Josh publicly called for the sport to increase its equality, diversity and inclusion (EDI) efforts, with the media having a strong part to play.
Through his extensive contacts, he was able to bring together racing's leading media organisations to flesh out the feasibility of creating British racing's first ever, free to attend, Media Academy.
Once in agreement with the concept, Josh along with his team of associates, worked hard to build the programme and gather support, initially funding the project personally, before applying for a grant from the Racing Foundation to help launch the Academy.
The Racing Media Academy is part of the Racing Pathway Strategy (www.racingpathway.com), which looks at routes and tries to remove barriers for racing's future fanbase and workforce.
Where gaps in the pathways have been identified, initiatives have been created so that no matter what age, gender, religion, sexual orientation, colour, differently abled or background, there was a place for you to land in British horseracing and further your engagement.
The Racing Media Academy gives its students the opportunity for work experience and training within racing's top media companies.
It starts with an intensive week's training at the British Racing School, where students get an insight into the world of horse racing and learn about the different areas of the media, followed by a paid work placement with one of the media partners.
This means that those who don't know very much about horse racing but have a passion for the media, or those passionate about racing with no media experience are encouraged to apply.
The ambition is to increase diversity across racing's media over the next decade, by creating a pathway for talent that is reflective of today's society.
Support has been gained from several organisations that work with young people from a variety of different backgrounds, opening the door to a wider demographic of people.
This was a strategic plan to help spread the message about the academy and open the opportunity to everyone.
The 2022 Racing Media Academy was a huge success with 7 of the 10 cadets now employed by racing's media.
Joint funding has been achieved from the Racing Foundation and the Media Partners to run the 2023 Academy, which will see an increase in placements to twelve cadets.
Additional Media Partners have also been added to the programme. The line up now includes; Sky Sports Racing, Racing TV, ITV Racing, RaceTech, JSC, Nick Luck, ARC, The Jockey Club, Equine Productions and JockeyCam.
The 2023 Racing Media Academy course will run from the 23rd to the 30th April 2023 and will end at Sandown Park for the Bet365 Gold Cup and the crowning of our sport's National Hunt Champions.
The following morning the last session will be to witness Luck on Sunday being filmed live at RacingTV's Studios in Ealing, London.
The Racing Media Academy is accessible to anyone over the age of 18 and is entirely free with a paid placement.
Applications are now open through www.racingmediaacademy.com Josh Apiafi, Founder of the Racing Media Academy, said: "I am incredibly proud of the success of the inaugural Racing Media Academy. I am delighted that we have managed to secure funding to see it flourish into the future. Special thanks must go to the Racing Foundation and the Media Partners involved.
"The ten cadets that were chosen for the 2022 academy, were ten of the most amazing people I have ever had the privilege to meet. When we open our doors to diversity and inclusion, its eye opening to see who walks through that door.
Just as last year, the only criteria for people to apply is 'a willingness to learn'. "I look forward to meeting the Class of '23 in Newmarket in April".
Rob Hezel, Chief Executive at the Racing Foundation, said: "The Racing Foundation is passionate about building a more diverse racing industry. Helping racing's media houses become more accessible to people of all backgrounds is an important step in that process. "After funding the pilot year, the Foundation was pleased to see many of the 2022 cohort gain industry media roles and encouraged to see last year's media partners once again sign up to develop the next generation of talent. "I would like to wish best of luck to all those applying to the 2023 academy."
Sam Fleet, JockeyCam CEO, said "We at JockeyCam are thrilled to be getting involved with the Racing Media Academy. Not only is it a great concept in the first place, making the pathway easier to break into racing's media regardless of background, but we've seen at close hand the high caliber of candidates through our sister company Equine Productions. "We're really excited to be a part of it all, and very much look forward to meeting the successful applicants in 2023."
Micheal Wallace Co-Founder of KickOff@3 said: "KickOff@3 was delighted to be involved in the Racing Media Academy and share it with our network of young people, it was amazing that one of the people we work with was on the inaugural course. "KickOff@3 aims to see less youth violence and hate crime and increase mental health awareness, physical fitness, and inclusion for all in sports across the UK, so a course like this provides an opportunity to do just that".
---
For further information, please contact: Josh Apiafi hello@racingmediaacademy.com @racingmediaacademy Apiafi Associates Ltd is a commercial consultancy spearheaded by Josh and Abby Apiafi.
Their team of Associates are passionate about driving growth strategies within sport. Currently, they are working on several initiatives for the betterment of horse racing's future, with a focus on equality, diversity and inclusion.
Further information available on www.RacingPathway.com.
Their client base includes; Rewards4Racing.com, The Tote, Sky Sports Racing, At The Races, Weatherbys, Professional Jockey's Association, The Jockey Club, Arena Racing Company, Total Performance Data Ltd, the Professional Players Federation and Falcon Associates.
In 2011 the team founded the award winning rewards programme for British horse racing, Rewards4Racing.com; now with over 1.3 million members, it was responsible for a fifth of all racecourse ticket purchases in 2021 In 2012 the Racing Foundation was established to oversee the distribution of funds to charitable causes within the racing and thoroughbred industry following the sale of the Tote.
Since inception it has awarded over £35million in grants. People, equine welfare, community engagement and environment and emerging issues are the key areas of focus in the latest strategy.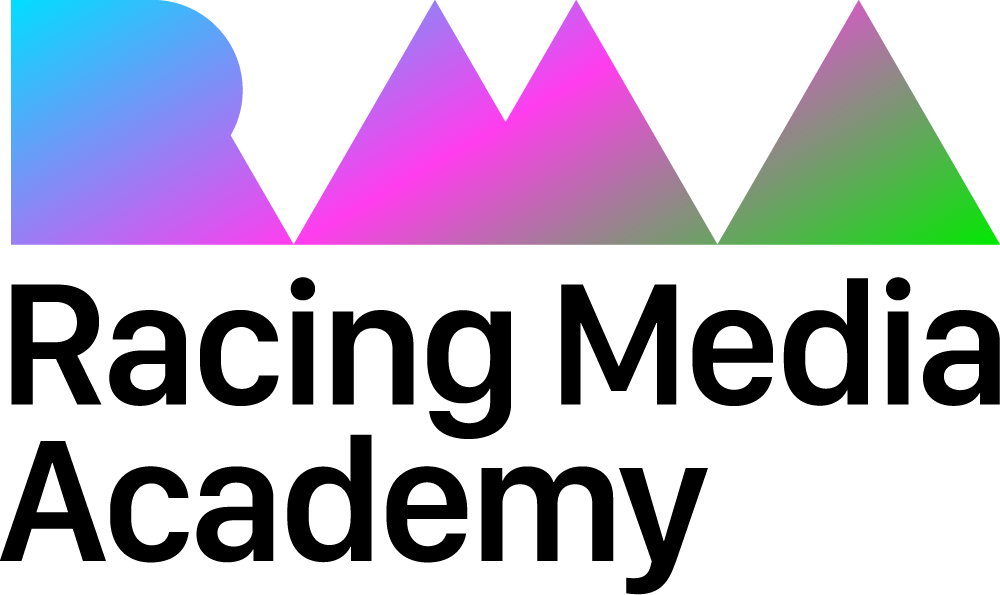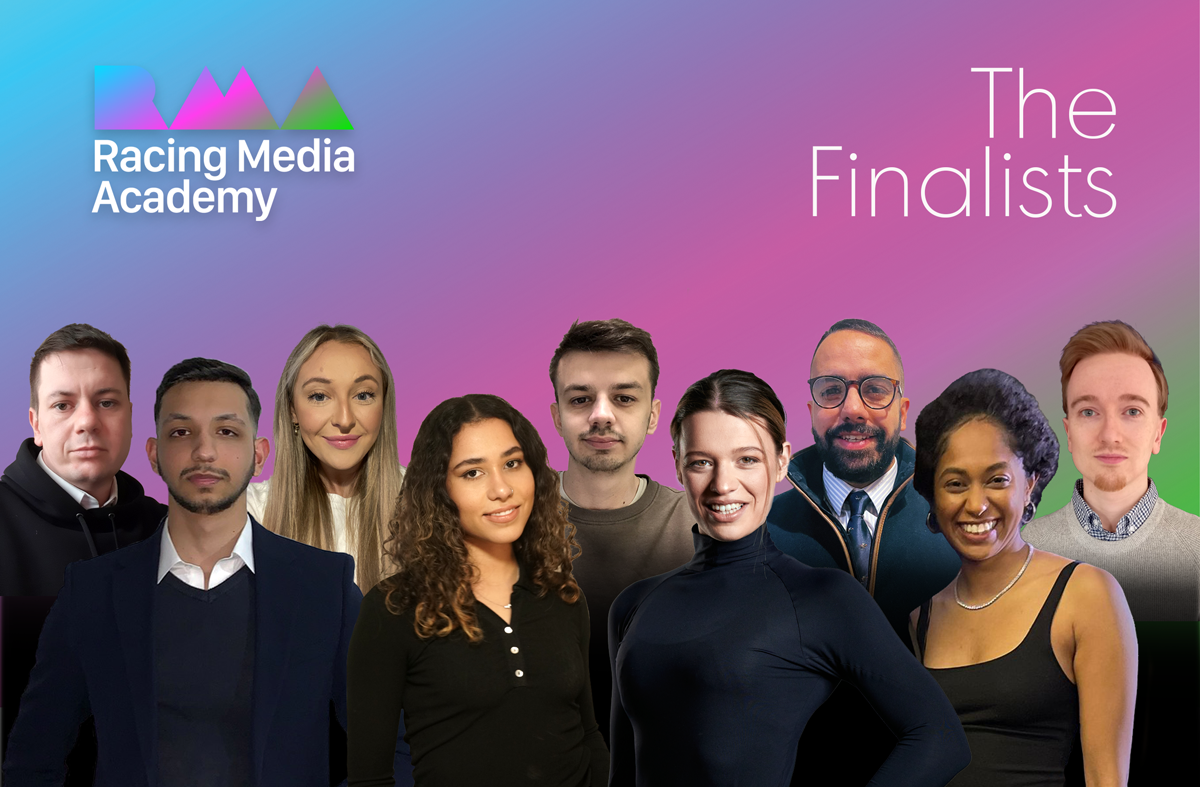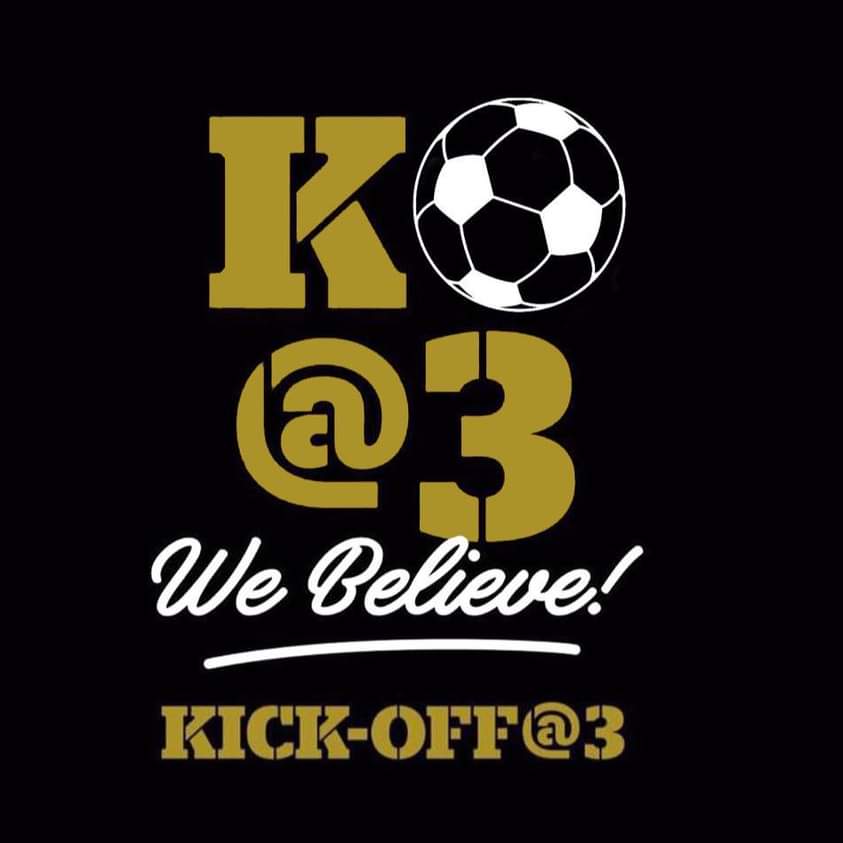 Josh Apiafi – Senior Associate 
Josh has spent his entire career within the racing and betting industries. 
Josh has been a champion of equality, diversity and inclusion in the sport of racing and a continual  instigator of growth initiatives. In the last two years these have included the Leading the Way series on Sky, which was headlined by his interview with Rishi Persad, The Jockeys Recognition Badge, successfully lobbying the BHA to change their 30 year old graduate programme to include non-graduates. In 2021 they rebranded it to become the BHA Development Programme. In addition Josh was part of the team to launched the education programme Step on Track aimed at teenagers from an ethnic minority background which received backing from AtTheRaces.com 
On the first anniversary of George Floyds murder in May 2021, he launched a hard hitting documentary called The Uncomfortable Race on Sky Sports. In the programme and in the interviews surrounding it, he investigated what it was like being from an ethnic minority background and working in the racing industry. The documentary has since been shown in Australia, Ireland and the USA.  
In October 2021, one of the only entities in horseracing to do so, Sky Sports Racing, celebrated Black History Month by commissioning the program 'Racing's Trailblazers' which lead with Josh and Epsom Racecourse Director Brian Finch speaking about their journeys through racing as men from an ethnic minority background
The Racing Pathway is his latest brainchild, to position the sport he loves, with a defined engagement pathway, so that no matter what age, gender, colour, religion or background you are, there is a place for you within the sport of horseracing
Early Career and Personal Life
Josh started his racing life aged 16 as a stable lad and amateur jockey for legendary jump trainer, Martin Pipe.  Since then he has turned his attention to the business and media side of the racing industry. In late 2001 he was recruited to join a fledging team of an internet start-up; this turned out to be Betfair.com! Shaking up the betting industry with its peer-to-peer betting exchange. Arriving at the company with 50 employees as Head of Marketing and Director of Racing. Over the six-year period he was with the company it grew to a team of 1,500 people and a billion pound valuation.
Josh founded and launched Rewards4Racing.com in January 2011, the award-winning rewards and loyalty programme in UK and Irish racing. Since then, it has grown to have over a million members who gain points from the programmes 4,000 retailers, 4 bookmaker partners and 31 racecourses. In 2019 over 850,000 tickets to the races (from racing's total attendance of 5.2million) were purchased by Rewards4Racing members. 
Outside of his day-to-day business interests, Josh was appointed as one of the new presenters by Sky Sports when they launched the Sky Sports Racing channel in January 2019. He has ownership interests in three National Hunt horses and still rides out regularly for Grand National winning trainer, Oliver Sherwood and he also sponsors the Sherwood Yard through the Rewards4Racing brand. He is passionate about his home village in the Lambourn Valley where he lives with wife and fellow Associate Abby and their two teenage children Finn and Isla.