"What if we believed in Black people as much as we believed in appeasing white people?"
They say perception is reality. This is especially true when people desperately want to believe a lie. If you're a person of African descent such as myself, you've probably heard countless times:
"Black people are the only people on the planet who don't support one another!"
Maybe you even believed it at one point.
Be it racism, antiblackness, lack of critical thinking and/or all of the above, most people accept this at face value.
However, the statement is completely false.
There is no way descendants of the African Diaspora would have been able to weather centuries of slavery, genocide, and systemic oppression if we did not support one another. To that point, the Underground Railroad, the Violent Crime Prevention Board, historically Black colleges and universities, Black Wall Street, the Civil Rights Movement, Adpac, Black Knowledge Society, Operation Black Vote, and Black Minds Matter UK are all examples of Blacks supporting one another.
If we didn't support one another: 
President Barack Obama wouldn't have made history and served two terms. It's been well documented why the Obama administration was a successful one. 
Tyler Perry's groundbreaking movie studio wouldn't be providing opportunities to Black Hollywood and shelter to those in need.
Five incredible Black women would not currently be making HERstory by holding the world's top beauty pageant titles.
Icons the likes of Stormzy and Anthony Joshua, Leroy Logan and David Olusuga, Naomi Campbell, Beyonce, Steve McQueen, Idris Elba, and David Harewood wouldn't have reached their respective levels of unprecedented success.
Neither would this very article you're reading or this website exist if Black people didn't empower one another.
Yet in spite of all of this evidence, people insist on allowing cognitive dissonance to get the better of them.
"There is always this societal narrative when it comes to the killing or persecution of Black people that we somehow did something to deserve it." —Janaya Khan
This is why in order to dismantle antiblackness, it is imperative to speak facts, tell the truth, and shame the devil. So let's talk about it:
Let's talk about how Black communities embody song to keep us strong, knowing the battle is already won but we just have to keep going " We shall overcome someday" Because often Black communities are havens for other minorities in need. Let's talk about how Lady Liberty was originally designed to celebrate the end of slavery, not the arrival of immigrants. Let's talk about it.
Let's talk about Courtney Brown launching Father 2 Father a mentoring charity to help turn the hearts of fathers to their children, and the hearts of children to their fathers. Let's talk about it.

Founded by Lord Simon Woolley to ensure we have a greater racial justice and equality throughout the UK, because it reminds the world that innocent Black citizens are being disproportionally marginalised by certain members of society. Let's talk about it.
Let's talk about Judge Peter Herbert who fought the law and won, which demonstrates that David defeating Goliath is no longer a myth. Let's talk about it. 
Let's talk about Black minds matter UK founded by the incredible Agnes Mwakatuma mission to connect Black individuals  and families with free mental health services to help us heal from centuries of trauma and start rebuilding our communities. Let's talk about it.
Let's talk about the Black Card Lottery who have created a way to raise funds for our children in the Afro-caribbean community so pupils raise the education and attainment. Let's talk about it.
Let's talk about Keisha Knight Pulliam and Arian Simone launching a $5 million venture capital fund for Black women entrepreneurs. Let's talk about it.
Let's talk about Communities Empowerment Network created 20 years ago by Gerry German delivering incredible important work in supporting the educational rights of children across the UK and see to it that a just society is in reach of every child so they are not excluded from the mainstream and that they are able to fulfil their potential. Let's talk about it.
Let's talk about this do-gooders like Kay Rufai who is opening the eyes of all to see the joy, pride and awe of the young black kings and affirming his mission of the S.M.I.L.E-ING BOYS PROJECT.  Let's talk about it.
Let's talk about Halle Berry taking extra time to allow Black journalists to interview her on the red carpet. Because, according to the Oscar winner, she can't forget her brothers and sisters. Let's talk about it.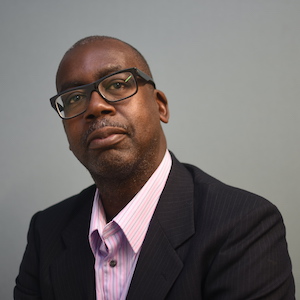 Let's talk about PROFESSOR PATRICK VERNON supporting the launch of Maureen Anderson's Pop-up I am enough productions created in order that black children are represented and they can see themselves positively reflected throughout their education. Let's talk about it.

Let's talk about Jasmine Dale the founder of Hearts of Talent  who is changing the narrative for young people with a performing arts competition, designed to guide young people away from knife crime and develop their artistic talents. Let's talk about it.
No, really, let's talk about it.
Are there areas of opportunity for the Black community to do better? Without question. However, when compared to other communities, Blacks are actually excelling. A point that's made throughout the pages of Black Wall t. Media.
"Africans never immigrated to some places. They were forcefully brought to countres, and they had to fight for themselves. The African diaspora is a huge example of inspiration for people of colour, for immigrants, to stake your claim for your country, that your voice matters."
Black Excellence isn't possible without Black love; love for ourselves, our siblings, our communities, our culture. Not only do Blacks support each other but we also support everyone else. We're the only race to have our culture adopted and emulated by the rest of the world, all over the world. In spite of weathering every unspeakable atrocity possible, our achievements are undeniable.
The United States and the UK are just a couple of examples to this although there is till much work to do. Every freedom and liberty we are enjoying was made a reality by our parents, grandparents and ancestors. Be it feminism, racial justice, LGBTQ rights, equality for disability, economic reform — there's not one social justice issue that Blacks didn't make a reality. That's Black culture. When we fight for progress, we fight for everyone. We are magical. We are beautiful. We are gifted. We love and support us.
Any claims to the contrary, the devil is a liar, just look throughout our pages and you will see we do come together and more importantly look at what we achieve.
You can find information on all the above mentioned on our Community Action Network page. or by typing in the names on our search engine at the top right of the website.