Brehanna Daniels is a trailblazer. Back in 2016, the 27-year-old made history as NASCAR's first Black woman pit crew member, and now, Daniels has made history yet again, this time as NASCAR's first Black female tire changer.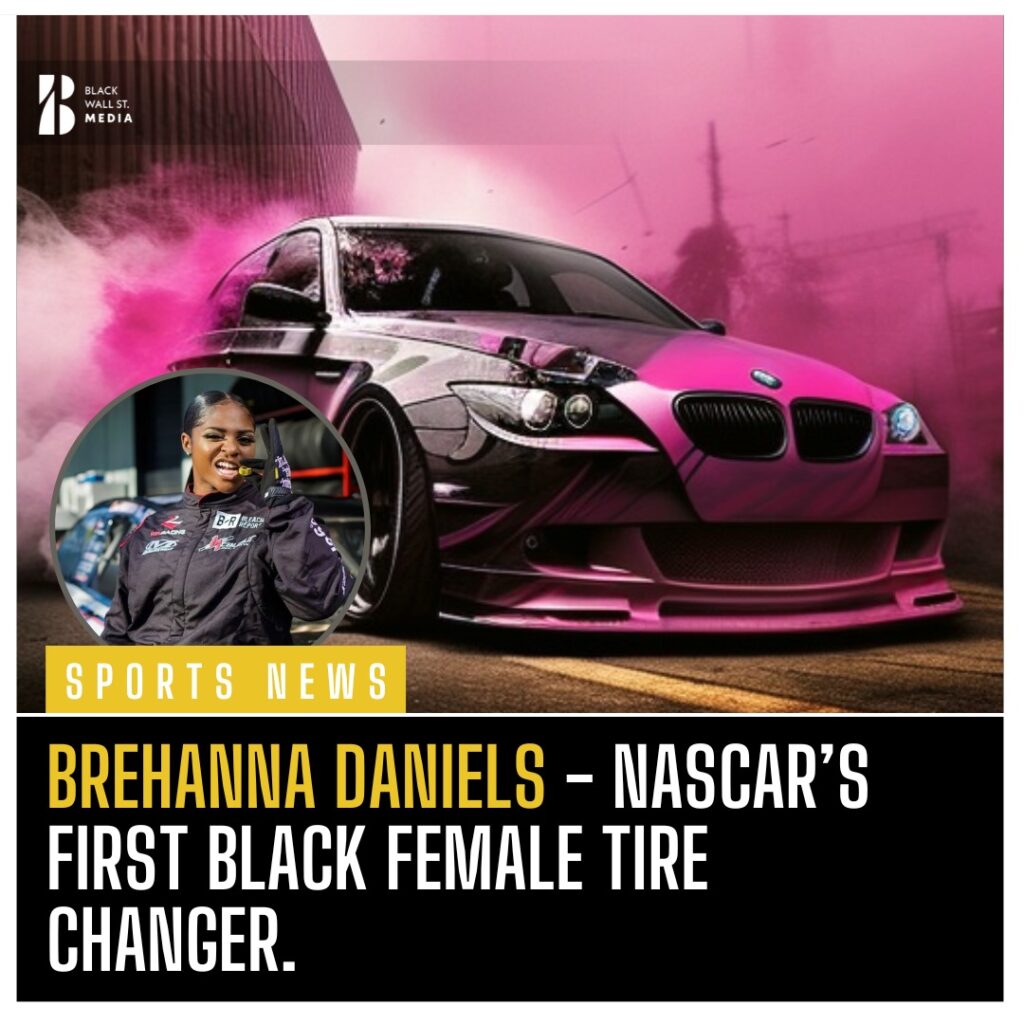 ---
As a former point guard at Norfolk State women's basketball team she never thought about Nascar as a sport until they came to her campus and introduced her to it.
Her on court skills made her an easy fit for the fast-paced needs in a pit crew.
She also made history as the first female duo in a Nascar pit crew. This hasn't been an easy journey, as it is with being the first Black in any space but especially as Nascar races was known for discrimination. But there is a new era of change within the community, with banning of confederate flags last year.
She also has her own apparel @bre_apparel.
"God couldn't have picked anybody else better to do the job," Daniels said of being the first Black woman to pit in a NASCAR crew.
"It takes a strong person to be able to make that change … knowing the history of NASCAR and the faces people are used to seeing on the track. Even though I was a little nervous at first, because I didn't know how I would be judged or looked at, I'm like, 'You know what? Somebody has to do this, and I guess I'm going to be the one to do this.'"
As part of NASCAR's "Drive for Diversity" program, which recruits and trains minority and female race car drivers and pit crew members, Daniels was the only woman trying out for one of spots on the organization's pit crew team. It was during this tryout that she fell in love with what it took to be a tire changer. And, a few weeks later, she was invited to join NASCAR's pit crew member program.
That was in 2016, and three years later, in 2019, Daniels made history for the first time, becoming the first Black woman to pit in NASCAR's Daytona 500 race. Last year, she won the crew member award at the 2020 NASCAR Drive for Diversity Awards Ceremony. And this year, she became the first Black female tire changer — more specifically, a tire changer on the No. 51 Chevrolet for Rick Ware Racing in the NASCAR Cup Series.
Earlier this month, Daniels was joined by teammates Breanna O'Leary and Dalanda Ouendeno as the only women pitting in the Daytona 500.
"It's always nice seeing other women reach out to me and say, 'You're living my dream, how can I get involved?'" Daniels tells People. "More people are seeing me do this and they want to do it, too … so one day, I hope there's a lot of women in this sport."
As a tire changer, Daniels not only quickly unscrews lug nuts from tires and replaces with new ones, but she also helps carry and clean the tires on race day.
And, you guys, she's fast.
"People were saying, 'She's not going to last long, she'll probably be here for a couple of months, if that,'" she says of her sexist haters.
"There's going to be those people out there; not everybody's going to be happy that I'm in the position that I'm in, but it just gives me the motivation to do more of what I'm already doing."