PC Idominik Efeotor, from the Parliamentary and Diplomatic Protection Command.
My full name is Idominik Efeotor, but most people call me Dom. I love media, policing, sci-fi and am of mixed heritage. My father was born and raised in Sapele, Nigeria, whereas my mother was born in Georgetown, Guyana and they met each other in the UK. I was born here (London Westminster hospital) and spent most of my younger years living in Battersea, later moving to Croydon… This is how I would have previously introduced myself. Now, I would say hi, my name is Idominik. I am a father, a son, a partner and a police officer.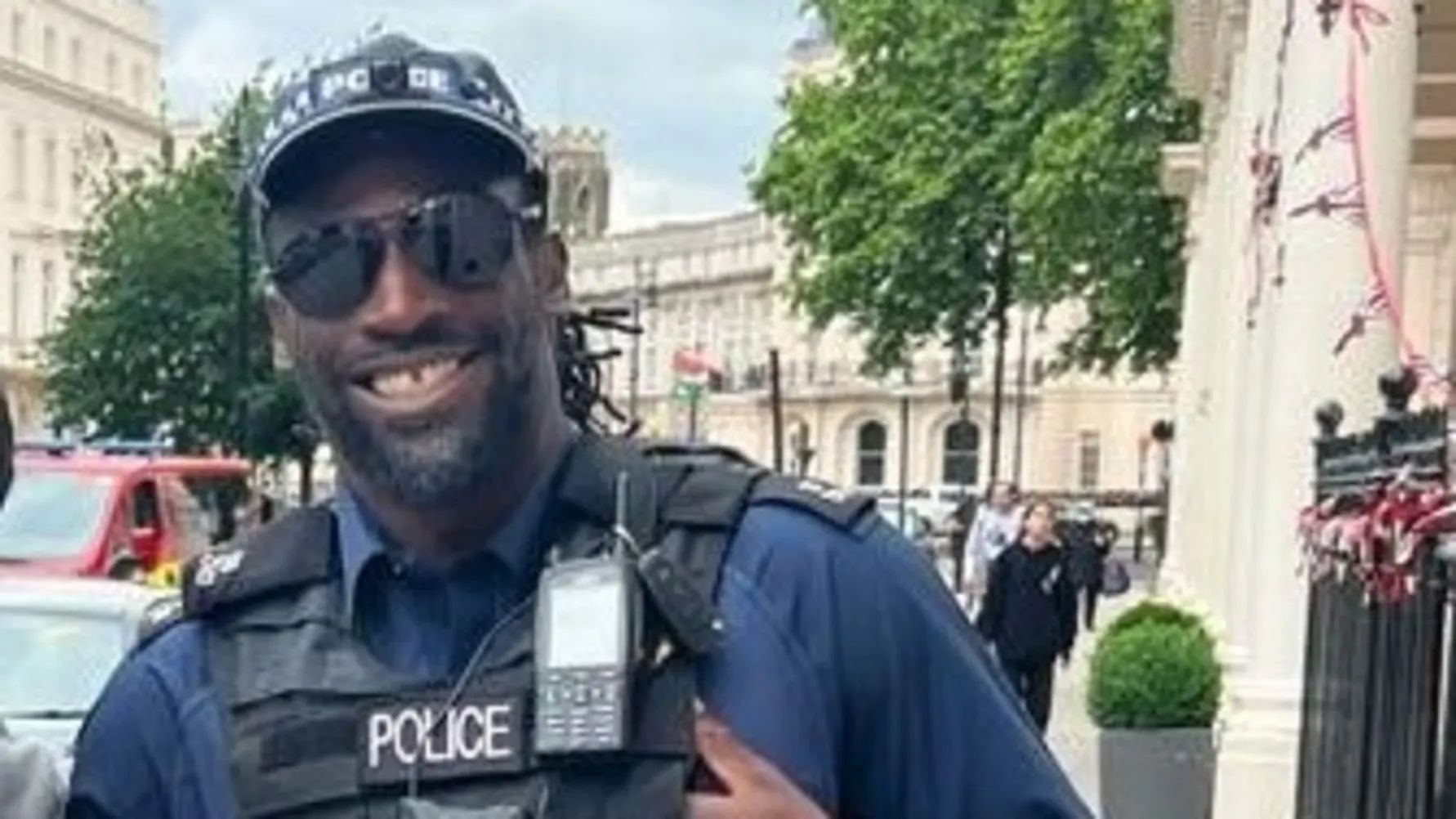 When I am not at work, I am father to Halle, a two-foot-tall princess that loves biscuits and attempting to jump off the furniture when she thinks people aren't looking. When I am at work, I am a firearms officer and protect various iconic sites in the capital city.
I also host a podcast called 'The Good, The Bad and The Ugly' that is aimed at recruiting more black officers into the Metropolitan Police through honest conversation. That may sound complicated but in short, I became a police officer so that I could help people.
Once in, I quickly realised that there was a distinct lack of black representation in the Metropolitan Police, which heavily contributed to the distrust of the police within my community.
It was at that moment that I decided that I needed to be the change that I wanted to see in society, instead of waiting for someone else to do it.
My main inspiration is Halle, my daughter. The way I see it is I cannot justify complaining or being unhappy in an organisation and not do anything about it. Halle will one day be in secondary school and learn about the murder of George Floyd and watch how the world slowly woke up to its wrongdoings. In that time, I imagine her asking me what I did to contribute; I refuse to be in a position where I would have to shrug my shoulders and say I did nothing.
As a police officer and a father, I can honestly say that given the choice to do either again, I would; without hesitation. That being said, it does come with its own set of struggles. I wish I could spend more time with Halle but due to long hours sometimes I go days at a time without seeing her. Missing out on magic little moments like bath time, or bedtime, or 'build-up-all-the-blocks-as-high-as-we-can-and-kick-them-down–again'. Whatever the moment, she is growing up fast and I sometimes – even though I am doing a job I love – find myself a little sad at not being there all of the time. I will say that the invention of FaceTime has made things a lot easier as it means I still get to be present, albeit remotely, but it makes me think of colleagues who went before me who had no such luxuries.
My advice to men who want to join who have children, I would say the job is great for opportunity and growth, however I would not be able to do the job I do without my amazing support network. It is because of the people around me that I am able to do what I do and have downtime that I can dedicate to Halle (our latest hobbies include doing a sign language course together, practicing our numbers and running in the complete opposite direction to the ball we are supposed to be kicking). I am lucky enough to have some ground-breaking conversations with people on the podcast who are equally as passionate about making the organisation a safer place for everyone. Being a police officer really is an incredible job; but I will always be a dad first and foremost.
I'll finish by saying this to my fellow fathers – on both sides of the law; be present. Life really is short so please be kind and try to enjoy the little moments. If you need help or are struggling, speak up and reach out. We are all making it up as we go along and you do not need to put on a brave face all of the time. Boys get sad too and how you feel really does matter.
Anyway, that is enough about me and I'll see you soon. Live long and prosper, Dom.
+ If you want to get involved in Idominik's podcast or find out more visit Instagram at: TheGood_TheBad_TheUgly_Podcast or YouTube at: TGTBTUPodcast.